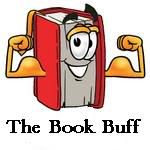 About the Blogger
:
I first read Pride and Prejudice as a kid and fell in love with Mr. Darcy. I wanted to marry him more than anything! Fast forward to my 18th year and low and behold I find my own personal Mr. Darcy. Long story short, I got to marry my Darcy and now we have a hilarious little red head toddler who is shaping up to be a bookworm just like her mom. I have always been crazy about books and compared everything in my life to them. To me, my dad is Atticus Finch and my mom is Mrs. Weasley. My husband is Mr Darcy and my daughter is Ramona Quimby (a 3 year old version anyway). I have a running 3rd person literary narration going on in my head (...she considered removing this tidbit, as divulging such embarrasing information could make her look a little ridiculous, and therefore ruin her bio...) and overall I am a quirky person just like every other book worm out there. Thank heavens I found a husband that finds my eccentricities endearing, rather than absurd.
About the Blog:
My whole life I have been a crazy bookworm, and every time I read a book, I'd have to tell everyone I knew about it. Since I read several books a week, you can imagine my family and frineds getting a little sick of it so I started my blog as an outlet for my excess book energy. I never enjoyed reading a lot of book reviews in magazines and newspapers, because it felt like the reviewers were just using it as a platform to show off how intelligent they thought they were. With this in mind, I turned to the blog world for a platform to share regular book reviews with regular people just like me. I love to read and I want to get other people excited about reading too. I've always thought that every person loves to read, they just might not have found the right book yet. So hopefully with the wide variety of books on The Book Buff, I can help people find that book.
Interview:
How long have you been blogging?
I started my personal blog a few years ago to keep in touch with out of town siblings, but I have only had The Book Buff for about a year. Keeping a personal blog updated is soooo different than trying to market and effectively run something like a book blog, where authors are depending on you and you have crazy deadlines!
Why did you decide to blog?
When I had my daughter 3 years ago, I decided to be a stay at home mom. I wanted to have a ton of kids, possibly home-school, or at least be president of the PTA, you know, be the perfect supermom. Soon after my daughter was born, my husband got sick and we had to switch roles. He is a stay at home daddy and I work. I wanted to be able to stay home so badly, so I did a lot of research about home based businesses and I read that with a TON of work, a blog could be successful. I tried a few different types of blogs, political, humor, etc. but I just didn't have the passion it takes to keep up and make them successful. My whole life I've been an insane bookworm but hated reading about books from reviewers because I felt like they were pompous and didn't know a thing about the common person. Thus, The Book Buff: Book Reviews for Regular People was born.
What books do you blog about and why?
I review any book that strikes my fancy, and even some that don't. I don't think you can truly call yourself a bookworm until you are willing to step outside of your literary comfort zone. I try to make The Book Buff a one stop shop to find any genre. Of course, I do have my favorite genres ( I LOVE Historical Fiction romance a la The Other Boleyn Girl) but I really try to have a wide variety. I've got everything from the classics such as (my personal favorite book EVER) Pride and Prejudice, all the way to new releases of James Patterson.
What memes can be found on your blog?
I don't really do memes. I think they are totally fun to read about on other blogs, but on The Book Buff my posts are uniform, one post = one review. I'm not sure if I do this because I like to keep things simple and user friendly, or (more likely) because I am OCD and like to have everything just so :) While my posts are uniform, I do have some things to make up for the lack of memes, such as great giveaways and reading challenges.
What is your review style like?
Totally honest without being outright cruel and a healthy dose of humor. I don't want The Book Buff to be a puppet of the publishers. If I hated a book, I will nicely point out why. I think it is important for a reviewer to say specifically why they did or didn't like a book so that the readers can decide for themselves. My goal isn't to tell people what they should and shouldn't read, but rather give them a heads up as to whether or not this book would be their cup of tea. It is also very important for me to write a review that regular people can relate to.
If you can describe your blog in one word, what would it be and why?
Anomalous, which is just a cool way of saying one of a kind. My blog is very different than most. It is clean, uncluttered, and straight to the point on everything. I strive to find ways of setting my book blog apart from the others. I am constantly scouring the blogosphere for new ideas and always looking for creative ways to develop and market The Book Buff.
What advice can you give other bloggers about blogging?
Blog about what you love and have a passion for. If you have a hum ho attitude about the things you write, people will see through it in a second. I really think it is the passion behind your words that will set your blog apart from the millions being created every single day!
What kind of promotion techniques do you use to get followers?
I am heavily involved in Ning netowrks. I belong to 30 something of them and I introduce my blog to every single person that joins these networks. I offer my help people navigate the Nings and the blogosphere and actually follow through with the offer. My integrity is very important to me, if I tell a newbie that they can ask me any questions, I'm going to answer them! I also host giveaways, but to be perfectly honest, hosting them for followers is secondary to me. I honestly just love to read and love giving out free books! I remember how excited I was when I won an audio book giveaway before I started doing them on my blog and I just want people to have that little bit of excitement too. This is why I don't require someone to be a follower to win a giveaway. I also host reading challenges with linkups (Jane Austen is My Homegirl) to encourage other book bloggers to participate.
If there was something you'd want your readers to take away from reading your blog, what would it be?
It is very simple, I just want to get people reading!!!
What can readers look forward to from your blog in the future?
I am always looking to improve my blog, so I am open to any feedback from my readers as to what they would like to see. You'll be seeing more of the stuff that works, i.e. my fun reviews, easy to enter giveaways, and great author interviews. But to avoid being stagnant I will continually update things like my reading challenges and the look of the blog. Also the more contacts I acquire in the publishing world, the cooler my giveaways and other offers become!
Blogger Remarks:
Thank you so much Kate for giving me the chance to interview you for this series. It was such a pleasure. And you, by far, have the cutest blogger picture. We're feeling the love! For more on The Book Buff, click on the blog button featured on top of this post. Next week, I'm pleased to have Haley from
The Life (and lies) of an inanimate flying object.