Since I'm crazy busy all of a sudden, I will let the giveaways speak for themselves today. I present you with two. Just click on the blog buttons featured in this post to visit the blog that is giving away the books mentioned.
Thanks to Jackie, there are FOUR signed posters of Hunger up for grabs.
The poster looks exactly like the cover art of Hunger.
2. Comment with your email address.
Extra Entries: (if you want)
2. Sidebar and leave link.
Second: Sparkling Reviews
The giveaway is for one book by H.P. Mallory.
There will be 2 winners chosen. The first winner can chose whether he/she would like Fire Burn and Cauldron Bubble or To Kill a Warlock. The second winner will get which ever book winner number one doesn't chose. These are for digital copies of the books and you will be emailed the copy when you win. You can read the description for both books below! Giveaway ends on Oct 27th, 2010 at 11:59pm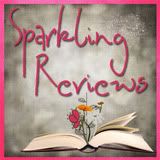 Good luck, dear readers. Now, I am off to edit. Just got an agent! ;-)