Dear readers, I have
a special post
for you today--one that's so special, it's actually two posts in one. It's about a video I saw when I visited Momo's blog Books Over Boys. You can click on her blog button below to visit: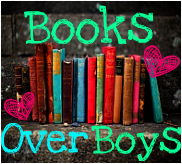 The video, which is featured on the right hand side of her blog, is about giving books. We, healthy and able to read the books we love anytime without too many things to worry about, need to watch this video. First, I will feature Momo's guest post then Farrah's post (who made the video).
Please, lets all take some time to welcome Momo and Farrah and the cause they (including me) believe in to Reads, Reviews, Recommends. It's my pleasure to show all of you what giving should be about.
Momo's Post
I think what Britney and Farrah are doing is great! It's true! The book blogging community is growing larger and larger every day!
We all love to read books
and we all understand what it feels like to get lost in a world unlike anything of our own. It's our sweet escape from everything when
life gets a little too complicated
or when life is just too much to handle! That feeling you get deep inside when you come across a situation in the book that you've been through yourself. The butterflies, the giddiness, the anger, the sadness – all that just makes you appreciate life for what it is.
All you have to do to help donate is
help raise awareness
! If you have a YouTube account, just
LIKE
the video! If you have a twitter, tweet about it. If you have a facebook, share the YouTube link! Anything! This is really special and heartwarming to know how
big of an impact
the book blogging community can make to help share the book love!
Giving back is a huge
! It's not about receiving but giving and making a difference. We've all been there – when we read an amazing book that makes us smile from ear to ear. By "LIKE"ing the video, it will give the kids at the hospitals a chance to experience what we feel when we read books!
Like I mentioned above, just help raise awareness! That's all that I'm asking! Spread the word, spread it like wildfire! Books are really an escape outlet! You can get lost in a world that's totally captivating, exciting, full of adventure, and everything more; stuff that just doesn't occur in the real world.
Thanks for reading this post and hopefully you'll LIKE the video and start raising awareness about it and thanks to Kate for wanting to do a feature on this!
HELP RAISE AWARENESS!
Farrah's Post
Britney and I decided to start spreading the book love because we realized
the book community online is huge
. I mean,
gigantic
. We were getting a lot of views on our YouTube videos, and that's when I came up with the idea about "liking" a video that would raise awareness. People could watch it, talk about it, blog about it, tweet about it, and just get the word out there. It's fun to show the world what books you like or what books you bought, but giving back is a huge part of that as well.
I don't think we both realized
how much of an impact it would have
. Within the first 24 hours we posted it, we received over 100 likes and $50 in extra donation from our PayPal. We started contacting big authors,
like Cassandra Clare
, who retweeted the message to followers. We also contacted bigger book bloggers, like Momo at Books Over Boys. We figured the more people blogged about the message, the more people would help us spread the word.
As of right now, the video has almost 500 views. We've raised $117 dollars in likes, and more than $85 in extra donations.
We're going to keep spreading the word for a few more weeks so we can really get the message out there. Once we've done that, we're going to go to a local bookstore to purchase the books (which we'll film) and then donate them to the two hospitals (which we'll also film).
Thank you for supporting us and helping spread the word!
The Video:
Please head on over to YouTube and LIKE the video above. And even better, consider donating even just a dollar to Farrah and Britney. By doing so, not only do you get to read the books you love, you know that you were able to help someone share that love too.
As Farrah's and Britney's act of good will progresses, I will continue to post about it here to keep all of you informed.
Start off the week right by spreading the word!