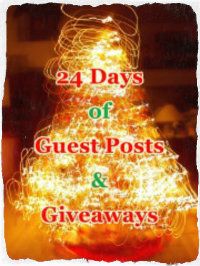 Welcome to the first ever
24 Days of Guest Posts and Giveaways
!
The time has come and so have the 24 amazing authors participating in this event. I wouldn't have been able to put this all together without their generosity. I am able to give this season to all of you because of their hard work and willingness to share. Here's to more years of this to come!
Let's get this party started with the incomparable Ros Clarke, who has volunteered to kick off this event with a guest post about her earliest Christmas memory. But before we read her magnificent post, let's get to know Ros a little better.
Author Bio
:
Ros is a writer, a student, a church worker, a crafter, a blogger, a twitterer, a lazy gardener, and an appalling housekeeper. She lives in a sixteenth century shed in England and is very glad that it has twenty-first century plumbing. She is interested in almost everything except cricket and football (US and UK) and mostly she likes happy endings in fiction and in real life.
Ros has been writing stories for as long as she can remember, never dreaming that other people would be interested in reading them. A few years ago, she discovered a writing forum on the internet, and has never looked back. Her head—and her hard drive—are full of ideas for fresh, fun, contemporary romances that she hopes you'll love as much as she does.
Website Link(s):
http://theoldshed.me
Twitter handle: @ros_clarke
Please make sure to visit her website and follow her on twitter!
My first Christmas memory involves a doll in a spinning teacup. Let's see what Ros's earliest memory is. Take it away Ros.
I grew up in a huge Victorian farmhouse – just the kind that you imagine in traditional English Christmas scenes. We grew our own Christmas trees and went out each year to choose which one to cut, drag back into the house and decorate. They were tall trees, and we had to lean out from the staircase to fix baubles on the highest branches. For weeks beforehand, the house would smell of Christmas – scents that I now know are cinnamon and cloves, bay leaves and brandy. My mother ran a choir who rehearsed in our house every Wednesday night, filling the house with sounds of carols and Christmas songs. It really was magical. Especially the occasional year when it snowed and we could take out our sledges and make lopsided snowmen.
But my earliest Christmas memory isn't about any of those things.
When I was very young, I shared a bedroom with my brother. He's only just a year older than me, but when you're five and six, that one year matters a lot. We'd been sent up to bed on Christmas Eve as normal, after putting out the traditional mince pie and sherry for Father Christmas. (I remember being shocked when I learned that in the US poor Santa only gets milk and cookies!) But I was far too excited to sleep.
Our windows were old and the curtains didn't quite cover them. So I lay in bed, looking through the gap in the curtains, watching for Father Christmas. Of course we had hung our stockings at the ends of our beds, hoping for all sorts of wonderful things. There was a fireplace which we never used, but which was very handy for Santa.
I have no idea how long I waited, and I expect at some point I fell asleep. When I woke, it was dark, but there was just enough moonlight coming through the curtains to see the silhouette of large man standing at the end of my bed, quietly putting wrapped presents into my stocking. I held my breath. I didn't want Santa to get delayed chatting to me when he had so much to do that night. And I really didn't want my brother to wake up and get to see Santa as well. That was just for me.

The filled stocking was laid on the end of my bed, too heavy and full to be hung up again. Then he did the same with my brother's stocking. He gathered up his empty sack and I glanced over at the fireplace.

He put his hand on the doorknob. I frowned. Hadn't he come down the chimney?

In our old house, it was impossible to walk through the corridors without floorboards creaking. I knew those sounds perfectly so that I could even tell which member of my family was approaching.

I recognized Santa's footsteps.

And when I pulled the stocking towards me, I recognised the scent that always hung around my father's sweaters. (He was a farmer. You can guess what kind of scent that was).

As I snuggled back into my warm bed in our freezing house, I was very happy indeed. Because I knew who Father Christmas was. And my older brother didn't. That was the best Christmas present I could have had.
A close encounter of the Christmas kind! What a wonderful story, Ros. Thank you for kicking off our
24 Days of Guest Posts and Giveaways
with your discovery of Santa's true identity.
You can see from her post her talent for writing, which is why I would like to introduce to all of you Ros's novel. It's a great read for the season. Check out All I Want For Christmas.
Book Blurb
:
Last night, Anna Gardner was the life of the office Christmas party—right up until she threw herself at gorgeous advertising executive playboy, Hugh Munro. Again. Last year, Hugh let her pretend their passionate kiss never happened, but this year he's determined to make Anna admit she wants him as much as he wants her.
Except, Hugh doesn't know the office party is the only night of the year his friend lets her hair down. That every hour she's away from the office is spent caring for her sickly mother. That her mother's condition, early-onset Alzheimer's disease, is hereditary.
When Hugh finds out what she's been hiding, he's forced to do some serious soul-searching. It's not fair to Anna or her mother for him to get involved casually, but casual relationships are all he knows. Can he prove to himself—and to Anna—that she's all he wants for Christmas?
Read an excerpt here:
http://www.entangledpublishing.com/all-wants-for-christmas/
Grab your copy now from:
Amazon US
Amazon UK
Books on Board
B&N (Nook)
Now on to the GIVEAWAY portion of this post. *confetti*
Ros is giving away:
An ebook copy of All I Want For Christmas and a handmade (by Ros!) Christmas papercut (and she is happy to send it internationally).
Here's a picture of the papercut:
Aren't these great prizes?
Enter now for a chance to win them!
a Rafflecopter giveaway
The giveaway is open until

Dec. 6, 2012

.
If you want to share this giveaway on your blog or website, here is the link.
What a wonderful start to the 24 Days!
Stay tuned for more in the coming weeks.
Spread the word!