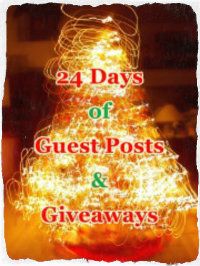 Hi, everybody!
*throws confetti*
As promised, I am unveiling my event for this coming holiday season. *super excited*
As you can see at the top of my blog, there is a new page tab called "24 Days of Guest Posts and Giveaways"
When you click on the page tab, it will lead you to the list of 24 awesome authors participating in my 24 Days of Guest Posts and Giveaways.
As the title entails, the event involves:
24 Amazing Authors.
So, starting Dec. 1, 2012 until Dec. 24, 2012 each of the authors will be featured on my blog with a holiday specific Guest Post and a wonderful giveaway.
Make sure to check in every day to get a chance to join all the giveaways. You have 24 chances to win something from our participating authors.
Also, as you can see at the sidebar of my blog to the left of your screen, there is a Button for the event that you can grab and add to your blog or website bar.
This event wouldn't even be possible without the generosity of the participating authors. To them, I would like to say a huge

THANK YOU

and my patented *tackle hugs*
"Like" the Facebook Page for constant updates to this event: https://www.facebook.com/24DaysOfGuestPostsAndGiveaways
Let's make this holiday season a memorable one!
Go forth and spread the word.