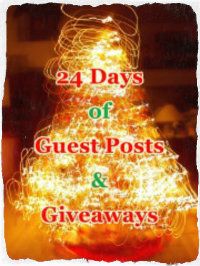 Is it Day 10 already? I can't believe it. Maybe it's because my head's a little stuffy. *laughs* I'm getting better, I promise. I will not be sick on Christmas! This I promise. Plus, I have several more days of wonderful Guest Posts and amazing Giveaways for the
24 Days of Guest Posts and Giveaways
.
Before we get started on today's special post, I want to take a second to congratulate the winner of an eBook of The Billionaire's Christmas Baby.
Donna B. congratulations! Please expect an email from Victoria soon.
It's such an exciting part of my day to announce the winners. I love sharing the happy and possibly making someone's day. So very awesome!
Remember, you still have lots of chances to win during the
24 Days of Guest Posts and Giveaways
. Make sure to click on the page tab at the top of my blog to visit the
24 Days page
. There you will find all the names of the authors participating and the dates when their post goes live. The dates that are red are all links you can click and it will take you directly to the guest post and giveaway. Visit them all!
Okay, confession, I first discovered today's featured author because of my love for the Late Late Show. Got to have me some Craig Ferguson. He's always hilarious to watch. One of the things Craig likes to do on his show is read from a book. One day, he was reading from Small Town Girl. Then he had Linda on the show. It's because of Linda's appearance that I found Omnific Publishing and ultimately submitted Reaping Me Softly to them. So imagine my excitement when I got an email from Linda saying she was interested in participating in the
24 Days of Guest Posts and Giveaways
. My heart was in my smile.
So, without further ado, it's my absolute pleasure to hand this blog over to the wonderful Linda Cunningham.
It's all yours, Linda!
My husband and I were married in September, thirty-three years ago. We lived in a small chalet type house in the woods of New Hampshire close to his parents, his brother, and sister. I didn't know his sister Shelley very well. She and her husband had lived in Buffalo, New York, all the time Kevin and I had been dating and only moved back just before the birth of their first child. Yet here we were, relatives living in close proximity to each other.
Kevin and I loved the Christmas season. We loved everything about it. The decorating, the food, the family get togethers, the giving. As a family, we didn't give extravagant gifts, just a little something to show we were thinking affectionately of the recipient. I can't remember what I gave Shelley that first year, but I have the gift she gave me to this day. Her gift to me was a tree topper, a needlepoint angel she had made herself. I loved it. Unlike most angels, who have long blonde hair, this one had a perfect brunette pageboy, just like Shelley. Unlike most angels, who are tall and willowy, this little angel was adorably round, just like Shelley. And unlike most angels, whose skin is alabaster and who eyes are cast heavenward in an ethereal gaze, this one had bright rosy cheeks and looked right at you with big brown eyes sparkling with humor. Just like Shelley. To this day she claims it was not intentional, but she had given me a needlepoint portrait of herself! Our lives together had started.
Every Christmas when I climb up on a chair to put the little angel at the top of the tree, I think of Shelley and all we have been through together for all these years. We held eachother up through the death of my husband, her brother. We stood side by side as both our fathers were buried. We held hands through family disputes, divorce, lawsuits, illness, miscarriage, and myriad daily crises. And we laughed together during all the good times. Marriages, the births of our children, the building of our homes, the personal triumphs and small victories of our families in sports, business, and community service. Without consciously thinking about it, we have been in harness together. We have raised our children, cared for elderly parents, and become grandmothers. When Shelley and I meet, we always hug and when we part, we hug again. These hugs are more than a greeting or an adieu. Our hugs are an exchange of emotion, words unspoken but understood between the two of us, love for one another kept permanently in our hearts.
Is Shelley my best friend? No. It is hard to explain, but our relationship exists on an entirely different plane. It runs much deeper than friendship. She is my ally, that person to whom I can turn at a moment's notice with anything. And I am the same for her. We can call eachother to blow off steam over the most recent aforementioned daily crisis. We can meet for lunch and catch up on children, grandchildren, and what's happening now. We don't need to talk every day, but every day we know we can. We are both family oriented people and the holidays are important to us. So when I teeter on the chair and reach up to put my little needlepoint angel on the tree, it warms me every year to think anew of Shelley even if I have just talked to her the day before. The little angel symbolizes the love between two women that started long ago and endures into the future.
This is another tissue moment. When I read this post I totally teared up. I hope to one day meet someone like Shelley, Linda. You are very blessed to have her in your life. Thank you so much for sharing with us the story behind your favorite Christmas ornament. I'm sure everyone has one.
Now that we know about Linda's tree topper, let's get to know her a little more:


Linda has written steadily throughout the years, but usually other people's papers, speeches, or articles for agricultural trade magazines. Her only published work of fiction was a children's book, "The Copper Angel of Piper's Mill", written in 1988 when her children were still small. Now that the kids are out of the house, Linda is writing fiction again, and this time it's personal! She writes full time and it's Romance! Her first romance novel, "Small Town Girl" is being published by Omnific Publishing and should be available late summer/early fall of this year.
Linda lives in a romantic stone house in the green mountains of Vermont surrounded by her gardens and her animals who include horses, sheep, cats, dogs, chickens, a parakeet and various wildlife visitors who wander in and out at will. When time permits, she also enjoys sketching and painting.
Here's where Linda usually hangs out:
Twitter: @lindac4251
And because Linda mentioned Small Town Girl, here's the blurb for that story:
Lauren Smith is on top of the world. A prestigious job in The Big Apple, her face gracing the pages of Town & Country Magazine, engaged to one of the most powerful men in the country. Just a pesky responsibility to attend to in the small New England town where she grew up and she could put that chapter of her life away forever. What she didn't factor into this seemingly simple equation was the appearance of Caleb Cochran. He would turn out to be the one thing she hadn't considered.
Wanna find out more? Watch the trailer:
Now, how can I get Caleb's number? I'm totally grabbing a copy of Small Town Girl today. You should too:
~*~
Wanna win a copy of Small Town Girl?
This GIVEAWAY is for you!
a Rafflecopter giveaway
This giveaway is open until
Dec. 15, 2012
.
If you want to share this giveaway on your blog or website, the HTML code can be found
here
.
What's your favorite Christmas ornament?
For all the up to date dish on the rest of the 24 Days of Guest Posts and Giveaways, please make sure to like the
Facebook Page
.