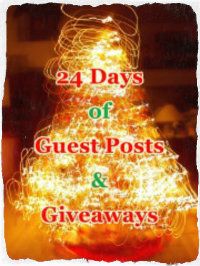 One of the things I love about the holidays is catching up with the people I love. I caught up with one of my sisters from another mother. We've recently connected after almost twenty years of not seeing each other. Can you imagine? We are more than a decade apart in age, and I remember she used to sneak me into the cinema for movies I was too young to see (well, that was according to the censors board. I was pretty mature for my age! *laughs*) Anyway, now that we've reconnected, it feels like the old days yet much, much better.
This is one of the reasons why I put together the
24 Days of Guest Posts and Giveaways
. I wanted a chance to connect with my sisters in writing. Give them a venue to share their stories and connect with readers. The holidays is about the connections we make. This is why it's such a special time of the year.
Let's make the most of this connection and congratulate the newest winner of the giveaways!
Jennifer's fantastic giveaway of an ebook of Streamline
has a winner.
Please everyone, put your hands together for:
Ryver M.
*fires confetti cannon*
Congratulations! You are now the proud owner of Streamline. Please expect an email from Jennifer soon. Happy holidays, Ryver!
Those still crossing their fingers for a win, here's a recap of the giveaways still ongoing:
Ebook of Thief of Hope
An autographed paperback copy of Hollywood Holiday
An eBook of Three Daves
A paperback copy of Small Town Girl
Enter now before the giveaways close!
Okay, today, we have the ever energetic Lynn Rush sharing with us the top 5 Christmas presents she's ever gotten. This is a good chance for us to get to know her even better and maybe even get some gift ideas for the holidays. Meaningful gifts always make the most memorable ones.
Take it away, Lynn!
Hey, everyone. I'm super excited to be here today. I just LOVE Christmas, how 'bout you guys? I love lots of aspects of Christmas, but the presents…now that's just plain exciting. The rush of seeing them wrapped and under the tree. Trying to guess what they are. And yes, as kids, PEEKING!
Admit it, you've peeked before, right?
There are a few presents I've received throughout my life that really stick out to me. Here are my top five:
#5: Twelve years ago, the family was all cozy inside as the wind and snow howled outside and it was time to open presents. My sister said there were presents that we all had to open at the same time. So, she handed us each one: My mom, me, my mom's brother, and my grandma. She counted down and then gave us the okay. In my gift box was a frame that had "AUNT" all over it. I was like, wait, I'm not an aunt what…then I jump up. "Wait, are you pregnant?" So, that was a pretty awesome present. The following July my little niece DINA was born!
#4: My first house! It was actually a Christmas-slash-Birthday present. Me and my hubby had been married a year. He graduated from the University of Iowa Physical Therapy program and started his first job (I was still in grad school) and with that, we bought our first home! What an amazing memory!
#3: One year my sweet hubby and I decided to try something at the suggestion of our church pastor. The money we would have spent on gifts to our family and one another, we pooled together and gave it away. But the fun part was that on Christmas Eve we just drove down one of the main streets here in our big city and picked random people walking and handed them some cash. We got such mixed responses it was amazing. But the gift to me was being able to bless someone. Maybe at that moment in time they were wondering where they'd get their next meal. Or how to pay a bill. Or whatever. It didn't matter.
#2: When I was fifteen, I was up north at grandma and grandpa's for the traditional Christmas get together. Way up north in Minnesota meant lots of snow—which I liked back when I was a kid—and tons of great food. And of course presents! There was this HUGE present beneath the tree (Or more to the side!) with my name on it. I just could NOT figure it out. So, needless to say I hurried us all through dinner so I could dive into that big bear. It was an art table. Back in high school and college I dabbled a bit in pencil and charcoal drawings, so this was absolutely perfect! I still have that thing to this day (And I just turned 40!)
#1: Diamond ring from my sweet hubby. On our TENTH Christmas as a married couple, my sweet hubby surprised me with a diamond ring. A simple band with a few small diamonds on it. We normally don't exchange big gifts on Christmas, we just exchange little things that we need like workout clothes, or things like that, so when I saw this, I 'bout fell over.
Thanks for letting me share my favorite Christmas presents. I'd love to hear about yours!
What wonderful gifts, Lynn! I think I love the handing out cash the best. Such a selfless thing to do. Now more than ever we need this kind of selflessness floating around. The best gift is truly the one where we get to share love and cheer with others. Thank you so much for sharing your top five gifts, Lynn!
Want to get to know Lynn a little more? Check out her author bio:
Driven to write, Lynn Rush often sees her characters by closing her eyes watching their story unfold in her mind. Lynn Rush is a pen name that is a combination of two sources – Lynn, the first name of her mother-in-law, who passed away and Rush – since the author is a former inline speed skater and mountain biker. All of Rush's books are dedicated to Lynn, her namesake, and a portion of the proceeds benefits cancer research and awareness.
Connect with Lynn online
Catch the Rush™:
www.LynnRush.com
Facebook:
www.facebook.com/LynnRushWrites
Twitter:
www.twitter.com/LynnRush
Pinterest:
http://pinterest.com/lynnrushwrites/
Lynn has a new book she wants to share with you all:
Let the Hunt begin...

Pursuing a normal existence by attending college proves difficult for vampire Hunter, Emma Martin, considering the mystical tattoo on her wrist glows whenever Vamps are near. And after three months of silence, the glow is back with a vengeance.

Jake Cunningham witnesses Emma using her powers and reveals a few of his own. Finally, after three years of searching, he realizes his newfound abilities must mean he's a Hunter like Emma.

Thankful not to be alone in the fight against the Vamps, Emma finds hope and comfort in Jake's arms. As she learns more about her new love's family and its dark heritage, she may be forced not only to hunt them, but also to sacrifice her life to save Jake's soul.
Doesn't Violet Midnight sound like a fantastic read? Well, you really need to grab your copy.
Violet Midnight (Violet Night, #1)
ISBN
: 9781937254810
Amazon E-book
:
http://amzn.to/R1yE97
Amazon Paper
:
http://amzn.to/TICHVl
Barnes and Noble
:
http://bit.ly/RzVLHT
Goodreads
:
http://bit.ly/NrIgHg
All Romance E-Book
:
http://bit.ly/V8BmK8
If you haven't decided yet, you need to see this trailer:
Now you really need to grab a copy!
Once you have Violet Midnight, make sure to also check out Lynn's other books:
Wasteland (Wasteland #1): Amazon:
http://amzn.to/pavzwE
Awaited (Wasteland #2): Amazon:
http://amzn.to/IDvp4H
Prelude to Darkness (Wasteland #.5): Amazon:
http://amzn.to/JMgGz9
It's a big prize GIVEAWAY today!
a Rafflecopter giveaway
Thank you so much for your generosity, Lynn!
This giveaway is open until
Dec. 16, 2012
.
If you want to share this giveaway on your blog or website, the HTML code can be found
here
.
For all the up to date dish on the rest of the 24 Days of Guest Posts and Giveaways, please make sure to like the
Facebook Page
.