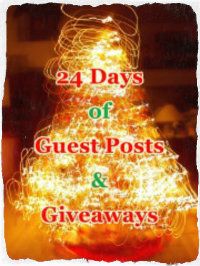 We are officially at the halfway point of the
24 Days of Guest Posts and Giveaways
! *confetti rain* Can you imagine? And today is such a special date too: 12-12-12. I wonder how many kids turn twelve today. Once in a lifetime.
Anyway, back to my main point. Another winner has been announced!
Cindy Young-Turner has just ended her
giveaway of an ebook of Thief of Hope
. The proud winner of this ecopy is:
Kate M.
Congratulations, Kate! Please expect an email from Cindy soon.
Okay, my internet is a little wonky, so in lieu of my usual recap, I will dive right in to today's post.
A part of the holiday season is story telling. Long ago, during cold winter nights, it was tradition to sit by the first and tell stories. I'm pretty sure this still happens during the holidays, and many of the stories told are part of the list Constance is sharing with us today.
The stage is yours, Constance!
Thanks, Kate, for inviting me to participate in this great feature that you are running!
Coming up with a list of my Five Favorite Christmas Stories was a little difficult. There are so many things I enjoy about this season and so many stories – in many different mediums – that highlight my reasons for loving the season. After a great deal of thought, I came up with the following. Maybe some of your favorites are there too!
In no particular order:
Santa Clause Is Coming to Town
: Every year for as long as I can remember it hasn't really felt like Christmas until the special airs on TV. The wonder I felt as a child hasn't faded with age. If that wasn't enough, the songs are so catchy that my now near-adult children sing them while we make Christmas cookies.
A Christmas Carol
: This Dicken's tale is pretty iconic. I remember seeing play productions and the movie long before I read the book, but in all of its formats, the story endures (in my mind) because the message has stayed current through the ages. It's so easy to get caught up in the commercialism of the holidays and forget the importance of family, and I love this reminder of what's really important in life.
The Gift of the Magi
: This short story by O. Henry is another classic. I think it has stood the test of time and become one of those well-loved tales for its simple message. The idea that it's better to give than to receive is one that is easily lost in this day and age. Beautifully told, I pull this one out often for a reread.
"What Child Is This?"
Though technically a hymn, the words to this song are as pleasing to me as any poetry. The imagery called up of a young mother with her sleeping infant child will put me in the holiday spirit faster than any other story, hymn or song. The lyrics were written by William Chatterton Dix.
The Night Before Christmas
: This poem was published anonymously in 1823 but is generally attributed to Clement Clarke Moore. (However, it has also been attributed to Henry Livingston, Jr.) I'm sure my family is not the only one who has passed the story down from generation to generation. As a child, I enjoyed hearing it every Christmas Eve, and kept that tradition alive with my own children. Maybe someday soon, I will be able to pass it on to the next generation through Grandchildren.
What are your favorite Christmas stories?
I am so ashamed to admit that I haven't read A Christmas Carol. *hides in a corner and weeps* I'll make sure to change that soon. Thank you so much for sharing your favorite Christmas stories with us today, Constance. There is a theme happening during this
24 Days of Guest Posts and Giveaways
. It's not about the gifts but about the connections we make with friends and family.
Okay, now that we know the top 5 Christmas stories from Constance, let's get to know her a little more:
Constance Phillips lives in Ohio with her husband, two ready-to-leave-the-nest children, and four canine kids. Her perfect fantasy vacation would involve hunting Dracula across Europe with her daughter, who also digs that kind of stuff. When she's not writing about fairies, shifters, vamps, and guardian angels, she's working side-by-side with her husband in their hardwood flooring business.
Constance is actively involved in her local Romance Writers of America chapter (MVRWA) and the Southeast Michigan chapter of the United States Pony Club. When not writing or enjoying the outdoors, she loves reality television or can be found at a Rick Springfield concert (just look for the pink Converse high tops).
Constance blogs regularly at
www.constancephillips.com
. You can also follow her on
Twitter
or friend her on
Facebook
.
Now let's get to know Constance through her novel, Fairyproof:
When Monique finds out her brother, Kieran, is planning her future with the one fairy she wants nothing to do with, she seeks refuge in the human world. Now Kieran fears she will be the next victim in a string of murdered fairies and is determined to bring her home.
Hiding should be a breeze. She can control any human with a flirtatious smile and an attraction spell. Until she meets Daniel Elliot, the only human who's immune to both.
A year ago, Daniel's fiancée disappeared with the engagement ring, an Elliot family heirloom. He's ready to move forward with his life, but his mother's obsession with retrieving the ring makes that impossible. Then Monique walks into his office to apply for a job. Daniel and Monique can't deny their attraction, but will the reason he's Fairyproof be too much to overcome?
Check out the trailer:


If that doesn't make you want to go out and grab a copy, I don't know what will! To make things easier, grab your copy by clicking on the links below:
Amazon: (paperback)
Amazon: (kindle)
All Romance Ebooks
Okay, it's GIVEAWAY time!
Check out what Constance has for us today:
a Rafflecopter giveaway
This giveaway is open until
Dec. 17, 2012
.
If you want to share this giveaway on your blog or website, the HTML code can be found
here
.
For all the up to date dish on the rest of the 24 Days of Guest Posts and Giveaways, please make sure to like the
Facebook Page
.