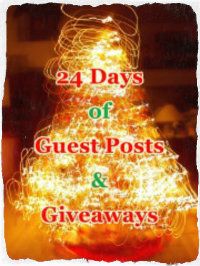 I have taken to my bed. For my own self-interest, and the interest of all the projects I have taken on, I have decided to stay in bed most of the day. I've mentioned before that I've been battling the coming of a potential cold. I hate getting colds, and it usually comes when I'm stretching myself too thin. I believe this stemmed from several recent kidnappings by my Momager that lasted until the wee hours of the night. I guess I'm not the party girl I used to be. *laughs*
Anyway, I believe staying in bed all day is doing me some good. I'm actually feeling a lot better as I'm putting this post together. I can't miss a day of the
24 Days of Guest Posts and Giveaways
. There is so much to share with all of you, and I wouldn't miss a day of being able to do that (short of full on confinement, and even then there's wifi!). I shall prevail!
Okay, time for winner announcements. And who doesn't like those?
It is my absolute pleasure and privileged to share with all of you the winner of
an autographed paperback copy of Hollywood Holiday by Sasha Summers
is:
*drum roll*
Rachael R.
Let's all give her a good cheer! *confetti*
Congratulations, Rachael! Please expect an email from Sasha in the near future. What a wonderful prize! And speaking of wonderful prizes, there are still lots of giveaways on going during this
24 Days of Guest Posts and Giveaways
event.
Find out what's on Nicki's Christmas wishlist and stand a chance to
win an ecopy of Three Daves
. Then hop on over to Linda's touching post about her favorite Christmas ornament and
enter her giveaway of a paperback copy of Small Town Girl
. Once you're done dabbing your tears away, visit with Lynn where she shares the top 5 Christmas presents she's ever gotten and
maybe you'll be the winner of a $10 e-gift card and an e-book 3 pack of Violet Midnight, Wasteland, and Awaited
. And if you're not tired yet, make sure to find out Constance's top 5 Christmas stories and
enter her giveaway of a winner's choice of a paperback or ecopy of her novel, Fairyproof
.
Okay, everybody's all caught up. Let's get to another touching post shared with us by the amazing Katie O'Sullivan, who took the time to describe her most memorable Christmas.
The blog is all yours, Katie!
Hi, Kate! Thanks for inviting me to join you for the
24 Days of Christmas Extravaganza
you've got going on! What a great idea to spend the whole month celebrating!
Now, first I have to say that Christmas is my
favorite
time of year. Not to brag, but I know the words to every Christmas carol ever written! I totally remember the childhood thrill of anticipation, wondering what Santa would leave under the tree…
There are so many special Christmas memories in the scrapbook of my mind…
Spending special Christmas shopping days with my sister when we were young… caroling with my Girl Scout troop when I was a kid, and caroling with my daughter's Girl Scout troop now that I'm a leader… the year Santa left my sisters and I new bikes under the tree, sparkling in the lights, and we were suddenly happy that there was no snow… the annual gingerbread-house building contests we started when the boys were little… the year my three-year-old decided to cut off her ponytail the day before we were flying to Grandma's for the holidays… my first paperback book signing, and being able to give copies of my book as gifts to friends and family… the year the dogs ate
all
the fancy Christmas cookies we'd spent the week baking as teacher gifts… the Christmas night my boyfriend gave me a diamond ring and asked me to marry him…
Picking out one Christmas memory is a tough assignment!
I guess my most memorable Christmas would have to be the year I became a mom, when my first child was born.
He was born a few weeks early, near the beginning of December, so he's not technically a "Christmas baby," but everything about Christmas that year seemed extra special.
The twinkling lights on the tree that my husband and mother picked out and decorated while I was in the hospital. The quiet carols that my husband tolerated all month long, since it seemed to soothe the baby. Rocking the baby in front of the fireplace at night as my husband put the finishing touches on the baby's room. The "dreaded Santa suit," a one-piece red pajama outfit that made my son cry every time I tried to dress him in it to take a picture. (We still have the photos, and yes, he's definitely crying in every single one.)
Best of all was the fact that it was the one (and only) time I ever finished my Christmas shopping before December 1st and didn't have to step foot inside a store or a shopping mall all month long!
I had the whole month to simply enjoy the spirit of the holidays and being a new mom, and I have to tell you, it was truly wonderful. I know the shopping part only happened because I had an absolute deadline. And try as I might, it's never happened again. But I keep hoping.
How about you? Are you like me and have lots of fun Christmas memories tucked away, or do you have one special Christmas that stands out in your mind? Tell us!
Share your favorite Christmas memory, and be entered for a chance to win a copy of my first book,
Unfolding the Shadows
, a romantic suspense wrapped up in a ghost story. And it's just been released in paperback! Here's the blurb:
Jillian worked hard to close the doors on her past and the psychic abilities that defined her youth. For sixteen years, she's ignored the ghosts who still try to whisper to her. Even her control-freak husband has no idea that his wife can talk to spirits. But on the day after Christmas, Jillian finds herself on a collision course with ghosts who refuse to remain in the shadows any longer…
And whatever you do this holiday season, be sure you make some good memories!
Scrapbook of your mind! I love that image, Katie. Thank you so much for taking the time to share with us your most memorable Christmas. I'm not a mom yet, and I can just imagine how special it is, but coupling it with the holiday season really does make it seem like such a wonderful experience. I would love to see those dreaded Santa suit pictures. I'm sure they are adorable!
Okay, since Katie already told us about her novel, let's focus on a little bit about her:


Katie O'Sullivan lives with her family and big dogs next to the ocean on Cape Cod, drinking way too much coffee and inventing new excuses not to dust. She writes YA and romantic suspense, and works as the Editor for CapeWomenOnline.com magazine. Her debut YA novel, SON OF A MERMAID, will be making a splash from Crescent Moon Press in May 2013.
Find Katie online:
Follow her Blog –
http://katieosullivan.blogspot.com
Friend her on Facebook -
http://www.facebook.com/kt.osullivan
Find her on Twitter -
https://twitter.com/OkatieO
Okay, it's GIVEAWAY time!
a Rafflecopter giveaway
This giveaway is open until
Dec. 18, 2012
.
If you want to share this giveaway on your blog or website, the HTML code can be found
here
.
For all the up to date dish on the rest of the
24 Days of Guest Posts and Giveaways
, please make sure to like the
Facebook Page
.