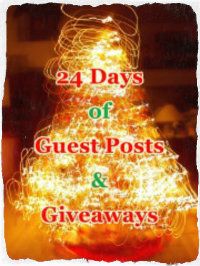 I think I can speak for every author participating in the
24 Days of Guest Posts and Giveaways
when I say our hearts go out to all the families affected by the events that unfolded in Connecticut.
I believe it isn't just the families who've lost a loved one affected. Something like this affects us all, the way we see the world. Sometimes we try so hard to have hope, getting up each day with a smile on our face, then something like this happens. It bruises the hope of even the most optimistic person. What more those who are barely holding on? The holidays is supposed to be about family, about sharing love. Then something like this happens.
Today, I want to keep things simple. Today, I find it a little hard to put a smile on my face. Tomorrow will be better, but not by much. I pray for all those shedding tears right now. Like a pebble causing a giant ripple on a pond, one person can change the lives of so many.
I'll announce the winner of
Linda's giveaway
on tomorrow's post along with the winner for tomorrow. It'll be a tandem announcement. For now, we have the magnificent Sarah sharing with us Christmas from the point of view of her main character.
The blog's all yours, Sarah. *hugs*
Before Andrew met Emily, he would prefer to spend Christmas on the road with his band. He's a musician, a rather talented one, and his band is up and coming --- they live on the road --- part out of necessity and part because he's driven to find his muse. But he knows his mates need a breather so he would let them run home while he'd swing into London to suffer a "proper" Christmas with his mum who would no doubt hold a fashionable Dickensian soiree of some sort at her Chelsea townhouse. There he'd suffer making small talk, dodge the glances and lunges of both young and old women, and drown his sorrows in a glass of Glayva or something stronger. Perhaps he might get slightly drunk, and if any of his bandmates were present, music would ensue. Or his mum might drag him to the piano without the need of alcohol. Either way, I picture the poor boy being cornered somewhere with mistletoe being used for nefarious purposes. In the end, he would slink out and find a pub or busk a street corner. He wouldn't stop looking for her, even for a moment.
Before Emily, Christmas wouldn't be romantic for Andrew; in fact all that familial lovey-dovey stuff might grate on him royally. Since he was young, his obsession has been to find his muse. This mysterious woman he's loved with his whole being. It's safe to say he wonders what she is doing, what she is experiencing as she lives another December 25th without him. But then he would kick himself for being an egotistical git since he's sure she has no idea he exists and that his fixation is just this side of getting him sectioned. More alcohol would probably be needed at this point.
After Emily, I fear the young man would drive his mates crazy by trying to over analyze everything while at the same time trying to remain cool. What's the right kind of present to buy her? Should he sweep her away somewhere with snow, a large inviting bed and no one within miles to hear them? But then he would look at her sitting there, reading a book or laughing and he would know that nothing was necessary. She was there, finally, and his, always his, and all those carols and lights and wonderment would have meaning. Eventually, he would find some sheet music or open his laptop and write those sights and sounds into lyrics and music, but first he would take her hand and whisper that he needed help with presents. Emily, ever on to him, would question whether it involved wrapping or unwrapping. There would be a shrug, an evil smile and a very merry but in no way silent night.
I love getting the characters involved. We never would have seen Andrew in this kind of light without Sarah's post. Thank you so much for shedding some light on Andrew's Christmas experience before and after Emily, Sarah. Totally brilliant! I can just imagine how Luka would spend Christmas.
Since Sarah gave us some insight into Andrew, let's get some insight into Sarah:
A writer and recovering CPA, Sarah's work includes writing and directing Tony and Tony's Wedding and Waiting for Garchick, musical comedies performed to benefit San Francisco charities. She has also made contributions to various anthologies, and written personal essays for both Public Radio and several national magazines. When not writing, she lives in San Francisco in an old house, surrounded by big and little people, all of whom she adores.
Please visit Sarah in the following places:
Website:
www.sarahmglover.com
Twitter: @sarahmglover
Grave Refrain
Facebook Page
Sarah's Facebook Page:
http://www.facebook.com/#!/sarah.m.glover
Now that we've gotten to know Sarah a little more, let's check out Grave Refrain:
Andrew Hayes, a brilliant but troubled guitarist in an up-and coming band, has been haunted since childhood by the presence of his muse. One night during a performance in San Francisco he spots her, but before he can catch her---she vanishes from sight. Desperate to find the woman, he accepts a curious offer to stay in the city, moving into a dilapidated Victorian under going renovations that stir up more than dust. Andrew's life becomes even more chaotic with the arrival of martini-swilling ghosts and a band of flesh-and-blood stoner spiritualists bringing bad tidings from the Great Beyond. As he struggles to solve the mystery surrounding the woman he loves, Andrew discovers his life is repeating a refrain more deadly than he'd ever imagined.
Watch the trailer:
Grab your copy now:
Amazon
Let's GIVEAWAY shall we?
a Rafflecopter giveaway
This giveaway is open until
Dec. 20, 2012
.
If you want to share this giveaway on your blog or website, the HTML code can be found
here
.
For all the up to date dish on the rest of the
24 Days of Guest Posts and Giveaways
, please make sure to like the
Facebook Page
.