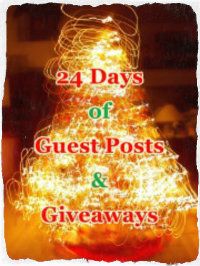 A day spent with three great ladies couldn't get any better. Writing can sometimes be a very isolating practice. Once we have our computers booted and our headphones on, the world and everything outside of it disappears. We jump through the proverbial rabbit hole found within the blank page and we immerse ourselves into the world we've created for however long it takes. This separates us from people, favoring the company of our characters instead. But once in a while, we emerge from our writing caves and return to our families, or in my case today, having a ladies lunch.
Taking all the positive energy from the lunch, I want to spread it around through this
24 Days of Guest Posts and Giveaways
post.
First, let's announce the winners from yesterday and today.
*drum roll please*
The
winner of a paperback copy of Small Town Girl
is:
Giedre S.
The
winner of $10 e-gift card and e-book 3 pack of Violet Midnight, Wasteland, and Awaited
is:
Alyssa S.
*confetti*
Congratulations, Giedre and Alyssa! Please expect an email from Linda and Lynn soon. Happy holidays!
Now, one of the things I love about the holidays is all the food. It's the time of year where calories are myths. We can eat anything we want! This is why we must have a post about holiday eats. Today, Lisa shares with us her favorite Christmas food.
The blog's all yours, Lisa!
Merry Christmas, everyone!!!
Big thanks to Kate for inviting me to be a part of the
24 Days of Guest Posts and Giveaways
…
Anyone who knows me will not be surprised that I couldn't choose only one favorite food. I can't even choose only one birthday card for family members! LOL
I did manage to narrow it down to two favorites though… Svens Danish and scrambled eggs with chicken livers. It's actually two separate dishes… Sounds gross all together like that!
It's funny, I'm not really a fan of chicken livers. In fact, I don't ever eat chicken livers except for Christmas morning. It's a once a year meal. My Mom fries them up with onions and you eat them with scrambled eggs. So while I would never choose chicken livers off a menu, they are a Christmas morning tradition.
Even more delicious is the Svens pastry… Mmmm…. It's pastry dough stuffed with almond paste and drizzled with glaze… Similar to a cinnamon roll crossed with a bear claw! Okay I'm making myself hungry now! LOL
We also have bacon and fruit, but it's the Svens and the chicken livers with eggs that make it feel like Christmas.
Does your family get together for a Christmas morning brunch? Are there special traditions that you only eat on Christmas Day?
It can't possibly be worse than chicken livers, right? LOL
Lisa :-)
I think I will pass on the chicken livers, but the pastry I will definitely partake! Thank you so much for sharing with us your favorite Christmas food, Lisa. The pictures are close approximations of the food described in the post. Or at least I tried. *laughs* Click on the source links for the recipes for the food pictured.
Okay, before you leave to check out the recipes, read a little bit about Lisa:
Lisa Kessler is an award winning author of dark paranormal fiction. Her debut novel,
Night Walker
, won a San Diego Book Award for best Fantasy-Sci-fi-Horror, and also won the Romance Through the Ages Best Paranormal and Best First Book categories.
Her short stories have been published in print anthologies and magazines, and her vampire story, Immortal Beloved, was a finalist for a Bram Stoker award.
Lisa lives in southern California with her husband and two amazing kids.
Then make sure to visit Lisa at these places:
Website –
http://Lisa-Kessler.com
Blog -
http://LisaKessler.wordpress.com
Twitter –
http://twitter.com/LdyDisney
Facebook Page Links:
http://facebook.com/LisaKesslerWriter
http://facebook.com/NightSeries
Please feel free to follow and like as you go. And then check out Night Thief:
After the fall of the Mayan civilization, Kane, an immortal Night Walker, has taken refuge in France for over 800 years. The modern world holds little interest for him until the night he meets the Golden Thief and is robbed of much more than his pocket watch.
Marguerite Rousseau is living a double life. By day she is the assistant to an eccentric French artist, Antoine Berjon, and by night she dons elegant evening gowns to woo French dignitaries before lifting their wallets.
Sparks ignite when Kane captures the thief, but Marguerite harbors a dark secret that could ruin them both.
Watch the trailer:
Now you need to grab your copy right? Here's where:
*rubs hands together*
It's GIVEAWAY time!
a Rafflecopter giveaway
This giveaway is open until
Dec. 21, 2012
.
If you want to share this giveaway on your blog or website, the HTML code can be found
here
.
For all the up to date dish on the rest of the
24 Days of Guest Posts and Giveaways
, please make sure to like the
Facebook Page
.