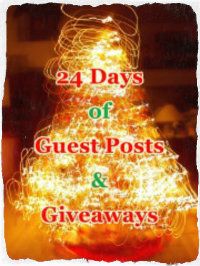 Spent the day at home. Got some writing done and feeling happy about it. In fact, may write another chapter after putting this post together. Are we already on the 17th Day of
24 Days of Guest Posts and Giveaways
? My gosh! We've reached the final stretch. My Momager actually reminded me that next week is Christmas. I actually didn't believe her at first. I'm losing track of my days again. *le sigh* I blame Balthazar. *wink wink*
Anyway, let's get this show on the road by announcing the winner of a print or ecopy of Fairyproof! It's a winner's choice prize.
Let's throw confetti for:
Mark A.
Congratulations, Mark! Constance will email you soon.
Always keep in mind that there are still giveaways you can join like
Katie's
,
Christine's
,
Sarah's
, and the very latest one from
Lisa
. While you're there, make sure to check out their wonderful holiday themed posts and leave a comment.
Today's post is a variation of yesterday's where I ask Jennifer to share with us her top 5 Christmas foods. I think I was hungry when I assigned this topic and yesterday's. What do you folks think? Maybe. Let's check out Jennifer's choices.
Time to get hungry, Jennifer!
Thanks so much for having me, Kate!!
I
love
Christmas and I
love
food, so this is a great topic!
Here are my Top 5 Christmas Foods
(in no particular order...)
*clearing throat*
1)
Fruitcake
Say what? Yes, I'm afraid so. Most people hate it, but I kinda sorta...like it.
Don't throw a shoe at me.
Or a fruitcake.
You just have to try the right kind of fruitcake. I like mine with plenty of brandy or alcohol in it. Just sayin'.
:-)
Nothing says Christmas like fruitcake—or receiving an unwanted one from one of my friends.
2)
Herring
I know. You're probably thinking, Who is this chick?
But I'm Polish and Lithuanian and I grew up having a meatless Christmas Eve dinner. It usually consisted of some kind of main fish meal, and pierogies or potato pancakes, but we always ALWAYS had a little side dish of pickled herring on the table. I continue that tradition with my family.
3)
Kielbasa
I'm not making this up!
It goes with the whole Polish thing. My mom makes kielbasa two times a year: Thanksgiving and Christmas Day. It's not the holidays without a special trip to Philadelphia to go to a specific Polish butcher to specific Polish kielbasa.
I've actually been eating more vegetarian lately, but that doesn't mean I won't try a little piece. (Shhh!)
4)
Christmas Cookies
Ok, now we're getting to the good stuff!
I'm actually a pretty darn good baker and make at least SIX different kinds of Christmas cookies every year.
The best ones I make? Spice balls, caramel-pecan cookies, sugar cookies, white chocolate cranberry, peanut butter chocolate delights, and walnut clusters. This year I'm changing things up and adding snickerdoodles, per request of my kiddo. :-)
5)
Eggnog
Can this even be considered a food? I think so.
Comedian Dave Attell sums up eggnog nicely: "Eggnog, who thought that one up? I wanna get a little drunk, but I also want some pancakes." LOL!
It's so creamy and fattening and THANK GOODNESS it only comes out around the holidays or I'd be huge. NO "light" eggnog in our house.
Hope you all will have at least one of the foods I listed here this Christmas!
Have a Merry Christmas and safe holiday season!
What's your favourite Christmas food?
I've never had Eggnog before. It's not what we drink here in the tropics. Actually, for Christmas, I'm not really sure we have a holiday drink like Eggnog. We're more into desserts like
Puto Bungbong
, which is purple and super yummy, and
Bibingka
, which is yellow and fluffy and is accompanied by shredded coconut, sugar, and salted egg. See, now I'm super hungry!
Okay, before I run away from this computer to hunt down Christmas food, let's get to know Jennifer a little bit more:
Jennifer Shirk has a bachelor degree in pharmacy-which has in NO WAY at all helped her with her writing career. But she likes to point it out, since it shows romantic-at-hearts come in all shapes, sizes, and mind-numbing educations.

She writes sweet (and sometimes even funny) romances for Samhain Publishing, Avalon Books/Montlake Romance and now Entangled Publishing.

Lately she's been on a serious exercise kick. But don't hold that against her.
Please make sure to visit her here:
Kendall Grisbaum is finally taking charge of her life—pouring her heart into opening a new bakery business and even allowing her best friend Georgie to play matchmaker for her. Trouble is, the one guy she secretly wants is Georgie's older brother, Brad, who is decidedly off limits.
Brad can't seem to get his little sister's best friend out of his mind. He and Kendall used to be close friends, too, and as a local policeman, Brad can't help but play protector, looking out for Kendall. When he offers to help her renovate her new bakery space on the side, their friendship—and their attraction—flares back to life.
Amid the temptation of doughnut muffins and blueberry cobbler, a new temptation draws them both closer. Can they take a chance on love when it means risking their friendship, even when not doing so risks everything?
Want a copy? Click here:
It's GIVEAWAY time!
Gather and enter:
a Rafflecopter giveaway
This giveaway is open until
Dec. 22, 2012
.
If you want to share this giveaway on your blog or website, the HTML code can be found
here
.
For all the up to date dish on the rest of the
24 Days of Guest Posts and Giveaways
, please make sure to like the
Facebook Page
.