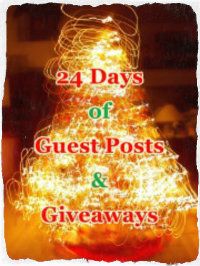 Who doesn't love some exciting news? Well, today, my email practically exploded with super awesome news. I'm not at liberty to say what that news is exactly, but I've got a feeling you'll find out soon enough. You'd have to be living under a rock not to. Heck, I'm living in the mountains where the signal is spotty and yet I found out. *laughs*
I know I'm being a humongous tease here, and I'm fine with that. *wiggles eyebrows* Just know that the publishing industry is about to burst into flames after the news is officially out. It's so exciting to be a part of this ever evolving industry, especially now. *big grin*
Keep your eyes and ears peeled for the news!
Let's add to the excitement by announcing
the winner of A copy of Unfolding the Shadows by Katie O'Sullivan
.
Congratulations to:
Bea T.
Yahoo! *confetti*
Expect an email from Katie, Bea!
Now, onto today's special post for
24 Days of Guest Posts and Giveaways
.
The holidays is all about traditions. There are old ones like putting up a tree, then there are new ones like watching a block buster on Christmas Day. No matter how many holiday traditions you may have, there's got to be one that's your favorite. Well, this is what Robin is sharing with us.
Take it away, Robin!
My favorite Christmas tradition. (or the story of my Dad shooting his eye out - almost)
I grew up with a bunch of Christmas loving movie freaks. My father, mother, my sister and I love to watch movies. I was first weaned on the oldies – musicals and great dramas from the Golden Age of Hollywood. Judy Garland, Doris Day, Rock Hudson and Gene Kelly were on a first-name basis in my house and we spent at least one afternoon a weekend settling in together to watch a great flick.

We also loooooove Christmas. My house growing up (and my current home) looks like a decorator took Christmas crack. I have lighted garland everywhere, candles and all other sorts of decorations. I even switch out my regular photographs on the wall with Christmas pictures for the season.

Christmas. Crack.

My husband is more of a moderate Christmas fan but he's learned to just get out of the way and follow my decorating directions.

So, as soon as we have inhaled our Thanksgiving turkey, we all settle in for a movie marathon of Christmas movies. The regular line-up includes, "National Lampoon's Christmas Vacation", "The Santa Clause", "Elf", and a "A Christmas Carol". But, the one we always have to see is "A Christmas Story".

It isn't Christmas until the leg lamp is on the windowsill and Ralphie is wearing that terrible pink bunny suit.

You see – we have a little secret. My Dad is convinced that Jean Shepherd (the guy who wrote the book) followed him around when he was younger and put his life down on paper. My Dad wanted a BB gun and my Granny told him he couldn't have it because he would shoot his eye out. His father also gave it to him anyway. My Dad went downtown to see Santa and gawk at the window displays. He had bullies that followed him home until he and his best friend, Walter, beat the crap out of them.
So, watching "A Christmas Story" feels like it is OUR movie. And we don't feel like the season has started until we watch it together.
And, that tradition has led to others. Now, I make sure to send my Dad an ornament that is based on the movie (Ssshh, don't tell him but he's getting the leg lamp this year!) and the day after Christmas we go out for Chinese food. If we're lucky, my father will tell us more stories about growing up in our small, southern hometown and my grandparents. He is a fabulous storyteller and I cherish those times with him.
So, that is my favorite Christmas tradition.
What is your favorite tradition? Is it one that you started on your own or one you've carried over from your childhood.
Happy Holidays!
Robin
Christmas crack! *laughs* I know what you mean. In the Philippines, Christmas starts in September. We celebrate Christmas for close to five months in this country. Come October, my mother is already decorating the house. Her rationale? Why not enjoy the decorations longer since they stay in boxes the rest of the year. I totally agree!
Thank you so much for sharing with us your favorite Christmas traditions, Robin! What else can you share with us about yourself?
Robin Covington, who NYT Best Selling authors, Robyn Carr and Carly Phillips, said was their new "auto-buy author", writes sizzling hot contemporary and paranormal romance. A Night of Southern Comfort, her best-selling debut was nominated by RT Book Reviews for the 2012 Best Contemporary Romance from an Indie Press for bringing a "fresh, modern feel to the genre while still sticking to the things that get our adrenaline pumping — sex and danger". When she's not exploring the theme of fooling around and falling in love, she's collecting tasty man candy, indulging in a little comic book geek love, and stalking Joe Mangianello.
Robin is a member of the Romance Writers of America, the Washington Romance Writers, a faculty member at
Romance University
, a member of the
Waterworld Mermaids
, a Goddess at
The Naked Hero
, and a contributor to the
Happy Ever After blog at USA Today
. You can find Robin on her
website
,
Facebook
,
Pinterest
, and Twitter (@RobinCovington).
Please feel free to stalk Robin in the following places:
Website:
http://www.robincovingtonromance.com
Facebook:
https://www.facebook.com/RobinCovingtonRomanceAuthor
Twitter: @RobinCovington
Entangled Publishing/buy links:
http://www.entangledpublishing.com/a-night-of-southern-comfort/
One night of passion...
Detective Jackson Cantrell never imagined that one night with an irresistible stranger would turn his life upside down. He's spent years living in the shadows, but Dr. Michaela Roarke awakened a passion inside him he'd buried years ago.
He never expected the woman would turn out to be the governor's daughter...and his next assignment. The governor blackmails Jackson to secretly watch over Michaela and protect her from a stalker, or kiss his dream job at the FBI good-bye. Swearing to keep things strictly professional, Jackson moves in with Michaela. Too bad his heart can't keep the same promise.
But when the stalker's attacks quickly escalate beyond mere photographs to bodily harm, Jackson must race to save Michaela's life. And he'll have to figure out how to keep her once she discovers his lie.
Make sure to grab your copy now:
Amazon
B&N
It's everyone's favorite part!
GIVEAWAY time!
a Rafflecopter giveaway
This giveaway is open until
Dec. 23, 2012
.
Don't forget to enter the other giveaways!
If you want to share this giveaway on your blog or website, the HTML code can be found
here
.
For all the up to date dish on the rest of the
24 Days of Guest Posts and Giveaways
, please make sure to like the
Facebook Page
.