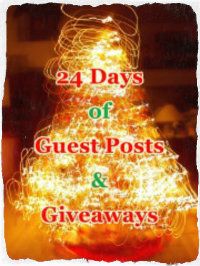 I just got back from watching the Hobbit. Man, I think I have a massive crush on Thorin. You've got to admit, he's hot. Even my mother agrees. During the movie she leans over to me and whispers, "Long hair on a guy, provided the guy is really handsome, works." *laughs* Who knew? My mother's into hot guys with long hair! Now I know where I get it from.
With that said, let's get down to business and announce today's
24 Days of Guest Posts and Giveaways
winner of a copy of Demon Soul
.
Let's raise our glasses to:
Jennifer S.
Congratulations, girl!
Christine will contact you right away about your prize. *confetti*
Today's post comes from Susan. She explores a situation where she has to explain what Christmas is to someone who's never experienced it before. We're taking the theme on a different road in this post.
Take it away, Susan!
A Post-Singularity Christmas
"What are you painting?" my sponsor asks, leaning over my shoulder, her skin sparkling in the late afternoon light like it's infused with pixie dust. She's enhanced, not magical, I remind myself. Although sometimes I doubt it, with the power she has over me.
"A Christmas tree," I say. "It's for my mother." Although technically, I should only paint for my sponsor when under her roof, I think she'll allow this. My mother is, after all, dying of a disease that my sponsor's race refuses to cure.
"Christmas..." She breathes the word out, then pulls in another breath, and I know she's doing that sensing thing that enhanced people like her do, sucking in the sharp scent of the pigment, tasting it in addition to all the information she's accessing from her link with Orion, the collective mind. "Traditional Christian Holiday, popular pre-Singularity. This evergreen tree was a symbol of everlasting life, the lights representing the illumination of compassion and salvation that the Christ child brought to the Christian peoples. The ornamentation has many interpretations, the most simplistic being a corollary to a traditional Christ-birth story, related to homage by kings of the time."
She was just showing off.
"Well, if you knew already," I say, "you don't need me to explain it."
She turns her head toward me, much too close. I keep my eyes on my brush strokes, still filling in the striated greens of the tree. A fir, the kind my mother likes best. The kind she talks about cutting down herself with her grandfather, back before the legacy humans were banned from hiking the forests and restricted to the city.
"What I don't understand," she says, "is why you're painting it." I swallow. She always wants to know the deeper reasons for my art. It's why she sponsors me, and I can hardly deny it to her and still have her patronage. Plus, with her this close, her beauty is almost intoxicating enough to make me want to spill it all anyway.
I pull in a breath and lean away from her, pretending to refresh my brush, but really needing some distance in order to speak coherently. "The holiday is more than the tree, or its symbols, or even the religion behind it. It's a time to come together as a family. For my mother, it connects her to her religion, but also to her past. So it carries more than just the meaning of the holiday. It contains all the love and family memories of holidays past as well." I'm careful to keep it clear that my mother's religion is not mine. The enhanced people tolerate all faiths, like they accept and supposedly cherish all the other flaws of legacy humans, but there is something slightly less acceptable about our tendency to believe in a higher being—compared to, say, our tendency to kill each other with knives over stupid things.
She reaches out to touch the painting, which always makes me flinch, but I know it's part of her enjoyment of it, so I don't protest. Her movement is so precise that she comes away with a microscopic coating of green pigment on her two fingers without having disturbed the brushwork where she touched the canvas. She holds it to her face, examining it in a way that I know involves more than seeing, as if the depths of the painting can somehow be found in its molecular structure.
"So this is your Christmas gift to your mother, then?" she asks. "A connection to her past, now that her future is short?"
I scrub my brush into palette, blending all the greens into one muddy, useless color. It always surprises me, even though it shouldn't, when she understands. When she has that flash of insight, like my soul is a looking glass she can peer into and discern without hardly having to try. Of course. She's enhanced. Smarter, more compassionate, more enlightened, and above all, incredibly, achingly beautiful.
"Yes," I say, reining in my anger and turning back to her. "It's a gift for her. And for you."
She rewards me with a blinding, dazzling smile, and I am so hopelessly, helplessly lost.
What a creative twist on the post topic, Susan! Seeing Christmas through the eyes of two characters. Christmas is more than just a holiday. I totally agree. Thank you so much for sharing this post with us today, Susan! *hugs*
Since we found out a bit about Susan's characters, it's time to get to know the author behind the characters:
Susan Kaye Quinn grew up in California, where she wrote snippets of stories and passed them to her friends during class. Her teachers pretended not to notice and only confiscated her stories a couple times.
She left writing behind to pursue a bunch of engineering degrees (B.S. Aerospace Engineering, M.S. Mechanical Engineering, Ph.D. in Environmental Engineering) and work everywhere from NASA to NCAR (National Center for Atmospheric Research) to a little Venice Beach restaurant called The Green Bean (she was the bookkeeper). She has designed aircraft engines, studied global warming, and held elected office (as a school board member). Now that she writes novels, her business card says "Rocket Scientist and Author," and she doesn't have to sneak her notes anymore.
Which is too bad.
All that engineering comes in handy when dreaming up dystopian future worlds or mixing science with fantasy to conjure slightly plausible inventions. For her stories, of course. Just ignore that stuff in the basement.
Her middle grade boys clamor for more middle grade books with magic and gadgets and less teen novels with kissing. Unfortunately for them, she enjoys writing both.
Susan writes from the Chicago suburbs with her three boys, two cats, and one husband. Which, it turns out, is exactly as much as she can handle.
Check out Susan's
author website
(
www.susankayequinn.com
) for more information about her books, and
subscribe to her newsletter
(
http://bit.ly/SubscribeToSusansNewsletter
) to be notified of upcoming releases.
Here are the other places you can find Susan:
Twitter: @susankayequinn
Find out more about Susan's writing in Open Minds:
When everyone reads minds, a secret is a dangerous thing to keep.
Sixteen-year-old Kira Moore is a zero, someone who can't read thoughts or be read by others. Zeros are outcasts who can't be trusted, leaving her no chance with Raf, a regular mindreader and the best friend she secretly loves. When she accidentally controls Raf's mind and nearly kills him, Kira tries to hide her frightening new ability from her family and an increasingly suspicious Raf. But lies tangle around her, and she's dragged deep into a hidden underworld of mindjackers, where having to mind control everyone she loves is just the beginning of the deadly choices before her.
Garb your copy here:
E-Book Buy Links
Amazon
Open Minds
,
Closed Hearts
B&N
Open Minds
,
Closed Hearts
Request an Authorgraph
Other formats/retailers
here
Paperback
Open Minds
,
Closed Hearts
Autographed
Mindjack Books
And Closed Hearts, the sequel to Open Minds, is available now, as well as several novellas in the Mindjack series. Free Souls, the third book in the Mindjack Trilogy will release before Christmas 2012.
Let's rock this GIVEAWAY!
Enter now!
a Rafflecopter giveaway
This giveaway is open until
Dec. 24, 2012
.
Don't forget to enter the other giveaways!
If you want to share this giveaway on your blog or website, the HTML code can be found
here
.
For all the up to date dish on the rest of the
24 Days of Guest Posts and Giveaways
, please make sure to like the
Facebook Page
.