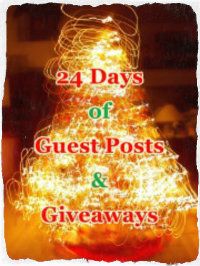 It's Day 2 of the
24 Days of Guest Posts and Giveaways
, and I can feel the excitement building. Can you? Lots more guest posts and giveaways to come, folks, so make sure to visit daily. Enjoy all the posts and enter all the giveaways for a chance to win one or more of the amazing prizes.
If you haven't checked out Day 1's guest post and entered the giveaway, make sure to visit it
here
after reading today's fun post.
Today, I'm hosting the magnificent Justine Dell, who shares with us her top 5 Christmas movies. Her number 3 is my personal favorite. She's right. You gotta love Tim Allen. He's hilarious in The Santa Clause.
If you haven't seen any of the movies listed here today, now's a great time to have a movie marathon!
Okay, Justine, take it away!
Hello blogosphere! First, thanks to Kate for letting me hop onto her blog during her 24 days of giveaways! WHOOT! Let's get this party started with my FIVE favorite Christmas movies!
First up,
SCROOGED
.
This is my FAVORITE. I mean, come on. Bill Murray gets visited by all the spirits of Christmas past, present, and future while learning the importance of Christmas. Not only does this movie teach a valuable lesson, it's also funny as all get-out! "Look Frank…it's a TOASTER!"
Second:
NATIONAL LAMPOONS CHRISTMAS VACATION
.
This movie should make any family feel better if they think their family is a little cray-cray. Chevy Chase is hilarious as the patriarch of the family trying to keep his stuff together over the holidays. You've got uptight neighbors, a fried cat, Christmas lights galore, and a grandmother who puts cat food in her jello-mold. Hilarious!
Third:
The SANTA CLAUSE
.
I'm a HUGE fan of Tim Allen (ever since those Home Improvement days) so what better film to watch than a comedy about him becoming Santa when he sees Ol' Saint Nick take a tumble off his roof. Again it's a movie that teaches a valuable lesson with bits of humor. I love those kinds of movies!
Fourth:
HOME ALONE
.
This movie came out when I was a young-in' and it made me wish that I could be home alone during the holidays. Or anytime for that matter. I didn't have a mean older brother or parents who didn't listen to me, but the idea would still be cool! Except for the burglars. That wouldn't be so awesome.
And finally, the
1964 RUDOLF THE REDNOSE REINDEER
.
I mean, it was stop motion! Think of how long that movie took to make. Not only that, it was cute. I loved the reindeer games, the misfits and the abominable snowman. And in the end, the lil' guy that had such a hard time gets his dream come true. It's a classic.
So tell me, dear bloggy readers, what is your favorite Christmas movie?
~JD
And because this is
24 days of GIVEAWAYS
, I'm going to give a lucky blog reader a signed copy of my book,
Recaptured Dreams
.
First, here's a little about ol' me:
Justine lives in the Midwest, happily catering to her family, which consists of a horse-obsessed teenage daughter and four dogs. She's never moved from her hometown, but hopes to grow old in a much warmer climate.
During the day she works a normal job with college students who try their best to keep her young. They've done a good job thus far. At night, said teenage daughter and her horse require mounds of love and attention. The weekends belong solely to her and her writing. That's when she morphs into a sticky bug, unable to leave the confines of her computer chair.
She started writing three years ago after seeing a movie that set off a chain reaction she couldn't have stopped if she'd wanted. It's not a hobby for her; it's an obsession. One she loves and one she loves to share.
www.justine-dell.blogspot.com
www.recaptureddreams.com
@justinedell
https://www.facebook.com/Dell.Justine?ref=tn_tnmn
And here's the info on the book you can win TODAY!
Isn't the cover gorgeous?
Ten years, the Atlantic Ocean, and several rungs in society have kept Xavier Cain from having Sophia Montel. Now twenty-seven, he's spent his entire adult life building a fashion empire that could finally prove his worth to her family. When fate reunites him with Sophia at London's premiere fashion show, one problem lodges in Xavier's path: Sophia doesn't remember him.
The only obstacle that has kept Sophia from Xavier is a horrific car crash that erased her memory at seventeen. She's spent the last ten years fighting to reclaim a sliver of her past that her mother refuses to help her remember. When Sophia meets Xavier at the London show, however, all her fantasies come to life in one night of passion. Discovering he is the missing link, she is determined to find all the pieces to their love story and her memory.
Xavier wants forever. Sophia wants her memory. If they take this chance, they'll have to start over. How far are they willing to go get what they want? And when the past catches up to them, can they handle the truths it has hidden?
Watch the awesome trailer:
Here are the buy links:
Amazon
Omnific Publishing
Grab your copy today!
Thank you so much for that great post, JD! I'm personally putting all those movies on my to watch list this holiday season. Some I have already seen and would love to revisit and others I have yet to watch and am excited to. Thank you for your wonderful suggestions.
Click on the titles to bring you to the IMDB page of all the movies suggested in this post.
*
rubs hands together
*
If you want to share this giveaway on your blog or website, the HTML code can be found
here
.
What an awesome second day!
Stay tuned for more in the coming weeks.
Spread the word!