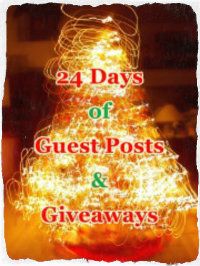 Here's an example of the shenanigans that goes on in the Evangelista household. In the midst of a driveway renovation, I tell my mother it's the end of the world tomorrow. Her reaction: "What? No! I won't be able to enjoy my new driveway!" Yes, mom, the driveway.
Can you believe it's December 20 already? And with that Day 20 of
24 Days of Guest Posts and Giveaways
? It's been a wonderful ride of wonderful guest posts and awesome giveaways! Again, I couldn't have done it without the generosity of the authors who took time out of their busy schedules to invade my blog. I'm forever grateful and honored! *hugs*
Okay, okay, it's winner announcement time!
Drum roll, please ...
The
winner of an eBook of Grave Refrain
is:
Yadira A.
Congratulations!
Please expect an email from Sarah soon.
For today's post, we're going back to the top 5 series. Today, Patty shares with us her top 5 Christmas beverages! And may I say, Patty has done a great job in promoting the
24 Days of Guest Posts and Giveaways
. She is the promoting MVP of this event with tweets, Facebook posts, and more each and every day. Patty, I couldn't have done it without you!
The blog is yours today.
Season's greetings and a hidey ho-ho-ho snowy little love monkeys!
First off a big thank you to the fabulous Kate Evangelista for inviting me to come and play on her blog, it is an honor and a privilege.
Alrighty dighty, I'm here to share what I feel is my top 5 holiday drinks, so let's get down to b'ness!
#1- Wassail
Yep, that's right, I went old school! My first experience with wassail was at my good friend Melanie's house when I was a teenager. I don't remember if we were doing something specific or if we were just over there farting around but her mom, Nancy, made wassail and I have to say that to this day, it isn't really the holiday season for me until I score a nice warm mug of wassail.
#2- Starbucks Peppermint Mocha
Once a year Starbucks brings out the delectable beverage that is the Peppermint Mocha. My husband turned me onto these and sweet Lord if they aren't divine! Honestly though, I'm so glad they only bring this bad boy out once a year because otherwise I'd probably seriously addicted.
#3- Sparkling Apple Cider
What? I like sparkling apple cider damn it! Yeah, I know I can buy it any time of the year, but it doesn't taste the same unless it's the holidays. I don't know why, some things just are and there's no rhyme or reason. This is one of those things.
#4- Hot Coco
Again, yeah, I can have this at any time of the year, but it's not like I live in the frozen tundra or anything like that. I live in L.A. I don't even own a winter coat so the occasion for coco is Holiday cheer and about a 2 week window in January.
#5- Eggnog
Much to my chagrin, you just can't spell holiday drinks without adding eggnog. Granted I think it is one of the vilest drinks on the planet, but my husband loves it. So, every year I get some just for him to enjoy. Yeah, I'm a good wife like that ;)
So there you have it, my top five holiday beverages! I hope all of my sparkly little love monkeys have a glorious holiday season and may the New Year bring you buckets of joy and make all of your dreams come true!
I see my favorite Christmas drink made it on the list. Wahoo! Now I want one. Great choices, Patty! I have to make it a point to taste eggnog at least once in my life. Putting that on my bucket list (assuming the world doesn't end tomorrow, that is) *laughs*
Okay, now that we know Patty's top five Christmas beverages, let's get to know this tireless author a bit more:
Patricia Leever is a wife, stay-at-home mom of four and owner of one dog and one little black cat. On the average school day she runs about town like a lunatic picking-up and dropping off kids and trying to find a moment of quiet to write down a word or two. She's a sci-fi geek that loves to dress up like a zombie and participate in the local zombie march down Main St. and laugh as much as possible; laughter frees the mind and heals the soul.
Please make it a point to stalk her today as your soonest convenience (in short, after you enter the giveaway):
Website-
http://patricialeever.com/
Blog-
http://patricialeever.com/blog/
Twitter- @Patricia_Leever
Facebook Page-
https://www.facebook.com/PatriciaLeever
Facebook Personal-
https://www.facebook.com/patty.leever
And we can't get to know Patty without getting to know Divinity too!
Demons.
They're everywhere, hiding in plain sight. Chances are, you've interacted with one or two of them in your lifetime without even realizing it...
Demon hunter Evelyn Brighton saves unsuspecting humans from the malevolent creatures masquerading around them every day. Working under the Lebriga Corporation's direction, she never fails to bring her A-game with her keen skill, fiercely independent spirit, and the best weapon in her arsenal: the Divinity blade.
Evelyn's world is turned on its ear, however, when she is ordered to train cocky new recruit Daniel Summers. They both feel an instinctive pull drawing them to one another, the ancient spells tattooed into their skin illuminating whenever the two hunters come into contact. But with evil looming over the city of Los Angeles, Evelyn and Daniel's mutual competitiveness and sense of duty to Lebriga and all mankind forces them to hold back their desires. Will their restraint be enough to keep them focused and save southern California, or will the dark forces prevail?
Set in modern-day Los Angeles, Divinity is an action-filled, fast-paced marriage of urban fantasy and paranormal romance. Edgy, witty, and sexy, it will bind you in its spell.
There's a trailer too!
You have to grab your copy today:
Grab your favorite drinks, everyone!
It's GIVEAWAY time!
a Rafflecopter giveaway
This giveaway is open until
Dec. 25, 2012
.
Don't forget to enter the other giveaways!
If you want to share this giveaway on your blog or website, the HTML code can be found
here
.
For all the up to date dish on the rest of the
24 Days of Guest Posts and Giveaways
, please make sure to like the
Facebook Page
.