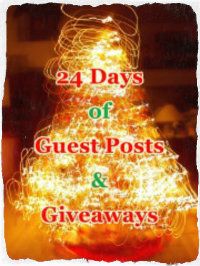 The end is near.
No, not the end of the world! Although, it is Dec. 21.
What I mean is the end of
24 Days of Guest Posts and Giveaways
is near. Can you believe it? When the posts started going live I thought we'd never get here, Day 21. Now that it's real I can't really believe it myself. I think it's because I spent most of the day watching my mother cook turkey. It's a sight to behold. It's one of my favorite holiday memories. You can check out the turkey
here
.
Before we get to today's post, I want to spread some joy by announcing the winner of another giveaway completed.
Cross your fingers.
The
winner of 1 eBook copy of Night Thief and 1 eBook copy of Night Walker
is:
Kristine R.
*confetti rain*
Congratulations, Kristine! Lisa will email you right away. Happy Holidays!
If you haven't joined any of the giveaways yet and you want a chance to win something, here's a recap of the current giveaways you can still join:
Day 17:
Jennifer Shirk
Day 18:
Robin Covington
Day 19:
Susan Kaye Quinn
Day 20:
Patricia Leever
Make sure to check out all their posts too. We have a few Top 5s and a couple sharings. For today's post, we have another Top 5, this time from Amy who shares with us her Top 5 Christmas Memories.
The blog's all yours, Amy!
Hi Kate and thanks for having me here today. December is a busy month in our family as not only do we celebrate Christmas but we also celebrate three birthdays – my husband's, my daughter's and mine! So it's an extra-special (and yes, extra-expensive) time of the year :-)
As requested, my top five Christmas memories are -
Memory #1
The first Christmas I really remember as a child, my two brothers and I each got the newest fandangled thing on the market – a tape recorder! I think I was about five or six. It was the first time I'd ever heard my own voice and we spent all Christmas day taping ourselves J Also I remember it came with the coolest tape – the soundtrack to Grease!
Memory #2
Back when we were first married my hubby and I lived in the UK for almost two years and then at the end we took a couple of months off and drove around a lot of Western Europe with my sister and her friend. We spent that Christmas eve/day in the Swiss ski resort of Davos where the snow was a metre deep. My best memory was ice-skating (first time ever!) on a frozen lake on Christmas morning and in the distance there were horses pulling sleighs across the ice with their bells a'jingling! I felt like I'd dropped through the rabbit hole right into the lyrics of a Christmas carol.
Memory #3
Decorating the tree. Every year the tree goes up in our house on December 1st and, despite the sun beating down outside, we put on a CD of Bing Crosby singing White Christmas and other snowy carols and we all get stuck in as a family. Now the kids are older the tree looks much better but for many years we suffered through lob-sided trees where all the decorations were clumped together in one patch but they were so proud of their efforts, we didn't have the heart to move them J The tree going up signals the start of the season for me and I look forward to it every year.
Memory #4
A few years ago we took the kids across to the UK to show them that, for a large section of the world, Christmas looks very different to our blue skies and sunshine. We kept our fingers crossed for a white Christmas but we knew that kind of thing couldn't be guaranteed. I'm happy to report it snowed like crazy and we spent the Christmas week putting around on a very icy Grand Union Canal in a long boat with my brother and his wife. The countryside was like all those Christmas cards I adored as a child, white and magical! The kids – and I - were in picture-postcard heaven!
Memory #5
I have to say some of my fondest Christmas memories take place in hospital. Being a nurse in my other life, I have been on duty during many a Christmas and even though it is never fun to be sick and away from family at that time of year, there is something really lovely about Christmas in hospital. The wards are all decorated in lights and tinsel, local choirs go carolling from ward to ward, the nurses wear Santa hats and Rudolph earrings and on the day the kitchen goes all out to make the meal extra-wonderful for the patients and staff. It's a really special day and I feel very privileged to have shared those Christmas's with my patients.
Three birthdays? Wow! Does that mean double the presents? My friends how have birthdays this time of years are always annoyed that they get a blanket present--one for both the birthday and the holidays. *laughs* Thank you so much for sharing with us your Top 5 Christmas memories. It's been a pleasure having you over.
Since we got a glimpse of Amy's life, let's get to know her as an author:


Amy is an award-winning author who has written thirty-two romances for Harlequin Mills and Boon in both the Medical and RIVA/Presents lines. She wrote her first book at the age of twenty-two while unemployed and freezing her butt off in the UK, largely because it involved being able to stay in bed with her electric blanket. One twelve year apprenticeship later she finally got "the call".
To date she's sold over a million books and been translated into thirteen different languages. In 2010 she took out the sexy category in the prestigious Romantic Book of the Year Award affectionately known as The Ruby.
She's recently launched a couple of separate writing ventures with the release of Sister Pact a contemporary women's fiction novel that she wrote with her sister Ros Baxter and was published by Harper Collins Australia as well as the very exciting release of her first category romance, Taming the Tycoon, and a Christmas novella, Baby, It's Cold Outside, with Entangled Publishing.
In what she euphemistically likes to call her spare time, Amy works part time as a paediatric intensive care nurse and was on the national executive for Romance Writers Of Australia for six years during which time she organised two national conferences and undertook a two year term as president.
She's been married for twenty-two years and has two teenagers. She lives on acreage on the outskirts of Brisbane with a gorgeous mountain view but secretly wishes it was the hillsides of Tuscany.
Please make sure to follow Amy accordingly:
Website Link:
www.amyandrews.com.au
Twitter: @AmyAndrewsbooks
Facebook Page:
https://www.facebook.com/pages/Amy-Andrews/382936461720040?ref=tn_tnmn
And this year, Amy has a holiday offering in
Baby, It's Cold Outside
:
Four novellas from four of the biggest names in romantic fiction!
When a freak blizzard hits America's Eastern seaboard, four pairs of strangers spend a hot night together one cold Christmas season! In Tis The Season To Be Kissed, a down-on-her-romantic-luck kindergarten teacher plans to drown her New Year's Eve sorrows in a gallon of spiked eggnog, but the arrival of her best friend's sexy brother threatens to melt the snow piling up outside the tiny Vermont cabin.

Make sure to grab your copy here:
Also, Taming the Tycoon by Amy as well from these places:
Well, enter the GIVEAWAY now:
a Rafflecopter giveaway
This giveaway is open until
Dec. 26, 2012
.
Don't forget to enter the other giveaways!
If you want to share this giveaway on your blog or website, the HTML code can be found
here
.
For all the up to date dish on the rest of the
24 Days of Guest Posts and Giveaways
, please make sure to like the
Facebook Page
.