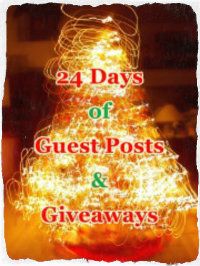 It's Day 23, people. Day 23! This is not a drill. We have reached the penultimate post for the
24 Days of Guest Posts and Giveaways
. We've had 22 fantastic posts, we have announced 17, and will announce one more today. Oh, but this is not the end, folks! We have two more amazing posts and giveaways to watch out for, so continue coming back.
Today's winner of an e-book copy of Secret Santa Baby and a diamond ring Christmas ornament is:
Congratulations, Kristine! Robin will email you as soon as she can. *hugs*
*claps* Alright! We're all caught up. Now, let's get to today's guest post courtesy of Maer. She shares with us her Top 5 Things she loves about Christmas. Take it away, Maer!
My Top Five Fave Christmas List
It seems that every year the Christmas Holiday Season starts earlier and earlier. That's okay with me because I love the holidays and so much that goes along with it. When I was a kid, Christmas started a couple weeks beforehand. Sort of the Twelve Days of Christmas. Now, we seem to go straight from Halloween right into Christmas and that's fine by me.
Since we're only two days away now, I'm prepared and in kick-back-and-enjoy-it mode. My shopping is done and has been for some time. I'll need last minute food things but that's it. I'm snug and warm, with wood for the fireplace. My Christmas playlist is on and I can enjoy the holiday.
I shake my head in amazement at how fast this year has flown by, but my year is almost over and it's a good time for reflection. In keeping with the season, here are my Top Five Fave things about Christmas.
Coming in at Number Five are Christmas decorations. I love looking at all the sparkly bling and lights everywhere. I can sit and watch our family tree for ages. It's decorated with thousands of lights and tons of ornaments, so there's always something to see on it. I passed the torch of actually decorating the tree on to my younger brother several years ago, so now I get to sit back and enjoy the tree without all the work. It's a great view from back here.
Number Four is for Food, Drink and Smells! I get to break my diet and enjoy all my favorite things. We usually celebrate over two days with family and friends wandering in and out from Christmas Eve through Christmas Day. We munch all sorts of snacks throughout, with complete meals of ham on Christmas Eve and turkey on Christmas Day and all the trimmings, of course. Look up "feast" and you'll find our picture there. For drinks this time of year, I love mulled wine or hot cider or hot chocolate, with butterscotch schnapps, topped with whipped cream. And I love the wonderful smell of food cooking and cakes, pies and cookies baking. Scented candles and pine trees and cinnamon are also season faves.
Number Three of my Top Five is for the Spirit of the Season and overall party atmosphere this time of year. In fact, I've noticed that people seem in a better mood the last few years. Maybe extending the season, so people aren't cramming all their shopping into two weeks is a good thing and people get to relax more. Maybe I've just managed to get to the store when other nice people are there. People smile and nod at each other. There isn't that super rush around the store, except for maybe a few folks. The rest seem in good spirits and there's a lot of "After you"s as baskets almost collide.
Number Two is music. I adore Christmas music. I dust off my playlists and listen to my fave artists. My tastes are pretty eclectic so I've got artists from classical to Broadway to pop to rock on that list. I love Trans-Siberian Orchestra and usually listen to several of their albums a few times during the season. There's almost always a mix of traditional with modern playing in the background at my house.
But for Number One, the thing I love most about Christmas is the coming together for my friends and family. There are some folks I only get to see at Christmas, so that makes it even more special. Visiting, catching up on the latest family gossip and just hanging out. Multiple conversations in various rooms, the delicious smells in the background. Dogs dashing about and looking hopeful that something will drop on the floor for them to snatch up in a flash.
And I love the look on my family's faces as they open their presents from me. Not anything super expensive, usually. There are years when I craft or make things for presents. I like those best. Sometimes I start as early as summer. Of course, I don't do that every year, but every few years, something will catch my attention to make for my family and friends and off I go. I like making things, as long as they turn out well. If they don't, I scrap the idea and hit the stores and internet for fun ideas. But I like the feeling of making something special for each person.
Over the years, I've turned out some cool presents. Last year was a big hit with homemade Kahlua that I started in summer. I ordered special bottles and even made up little recipe books for each bottle. Each book had a beaded cover with their name on it. Very blingish. This year, nothing was jumping out at me saying "Make me!" so I had to use the internet to come up with cool ideas. It's not as much fun as making things, though.
Still, I love that look on their faces when they open their presents and appreciate the effort I went to. The present opening part takes forever because we only open one at a time. That way everyone can ooh and aah over what the others get. That camaraderie, laughter, warmth and love in our extended family is super important and every moment spent with my family is a special treasure for me.
Well, those are my special moments and favorite things. No matter how you and yours celebrate the season, I wish you the very Happiest of Holidays! Take care, everyone and stay safe!
I love that you start as early as summer, Maer! Here in the Philippines, we start as early as September and celebrate well into January. It's really the spirit of the season and thank you so much for sharing with us your top five.
Now that we know Maer's top five favorite things about Christmas, let's get to know her a little better:
After a successful career being other people, and later teaching others the many tricks of that trade, Maer Wilson has decided to be herself for a while. Turns out she's a writer. She's always loved stories, especially fantasy, mystery and sci fi. She was born in the year of the dragon and adores anything to do with them. She even has a dragon-themed room in her home, but sadly no dragons in the back yard. When she's not writing, Maer plays online video games (MMOs), teaches college and reads. She lives in the high desert of Southern Nevada with her two dogs, a chihuahua and a poodle. Relics is her first novel and will be released June, 2013. Maer also co-hosts a new podcast on and about the world of publishing, with guests who include writers, publishers, artists and editors. Feel free to stop by and leave a comment on her website or give a listen to her podcast.
Make sure to visit Maer at these following places:
Websites:
Maer Wilson's Website and Blog
and
MythBehaving - Maer's Podcast
Twitter: @MaerWilson
Facebook:
Maer Wilson Page
and
MythBehaving Podcast Page
Afterwards, make sure to add Relics to your TBR pile on Goodreads:
When the creatures of myth and magic return to Earth, they're nothing like your mother's fairy tales.
Most of Thulu and La Fi's clients are dead. Which is perfect since their detective agency caters to the supernatural. So, a job finding relics for an ancient daemon is simple.
The daemon needs the relics to keep a dangerous portal closed. His enemy, Gabriel, wants the relics to open the portal and give his people access to a new feeding ground – Earth.
Hoping to create chaos, Gabriel opens portals to other worlds and the creatures of magic return to Earth, stunning humanity with their existence. When Gabriel threatens their family, Thulu and La Fi's job becomes personal. They'll need powerful allies in the race to find the relics before Gabriel does. But maybe that's what grateful dead, magical allies and daemonic clients are for.
RELICS by Maer Wilson is scheduled to be published in June 2013 by Crescent Moon Press.
Cover Release - Please check Maer's website, Facebook Page, or her book link for news updates, including her cover reveal.
Ready for a GIVEAWAY?
It's now or never!
a Rafflecopter giveaway
This giveaway is open until
Dec. 28, 2012
.
If you want to share this giveaway on your blog or website, the HTML code can be found
here
.
For all the up to date dish on the rest of the
24 Days of Guest Posts and Giveaways
, please make sure to like the
Facebook Page
.