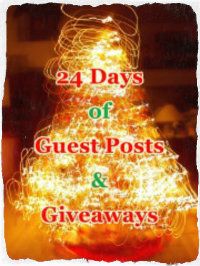 'Twas the night before Christmas...well, on my side of the world it's technically the afternoon, but I thought I'd put today's
24 Days of Guest Posts and Giveaways
together now since tonight's gonna be crazy. There are so many things I can't believe, and one of them is that we're at the last day of the
24 Days
. It's bittersweet. I had so much fun putting these posts together and opening the giveaways for all of you. I loved communicating with my fellow authors and sending them all the information they needed for this event.
The mythical "they" always say when something ends it's so something new can begin. In a few days, it's the new year, 20-freakin'-13. *shakes head* Another year of possibilities. But I'm getting ahead of myself. First, let's end this event like we started it: with the kind of excitement the season brings.
It's winner announcement time!
Let's get together and pour some holiday cheer for:
Pati
.
*yey* You have won
an ebook copy of Open Minds
. Susan will send you an email about your prize as soon as she can. Happy holidays, Pati!
There are still five more giveaways going on including the one for today, so please make sure to enter them all before they close. You can still win any of the prizes up for grabs.
I love today's post because I always love waking up Christmas morning to find out what Santa has left me inside my stocking. There are so many possible stocking stuffers out there, and Michelle is sharing with us her top five.
The blog's all yours, Michelle!
I love Christmas. It's my absolute favorite time of year. My top 5 stocking stuffers change depending on who I am giving them to. My kids, for instance, usually get stuff like cool toothbrushes, watches, hair things, little toys, DVDs or video games, etc. And just in general, I'd say you can never go wrong with jewelry or gift cards :)
As a writer, these are the things I'd love to find in my stocking:
1. Books or a gift card for books –
Really, as boring as my husband might think this is, it ROCKS. Most writers I know are very avid readers as well, and is there anything more awesome than getting a new book?
2. Office supplies –
Again, the hubs might snooze, but man does my little heart go pitter-pat when I get my hands on a bunch of new pens and Post Its and notebooks oooo and especially organizational stuff like binders and bins and cork boards and those really pretty push pins and paper clips and....well you get the point :D
3. Computer software –
I got that Dragonware program that will read your manuscript to you last year and this year I'd LOVE to find Scrivener tucked into my stocking!
4. Music –
Music sets the mood for me. Some books I have soundtracks for that I just leave on repeat while I'm writing. Others I have to write in silence, but I still use specific songs to get me in the write mood :) Some of my favorites are Apocalyptica, Evanescence, Rob Dougan, E.S. Posthumous, The Piano Guys, Escala...my typical mood setting stuff) :) And when I'm just kicking back and reading, I love having music going in the background, so a good CD or iTunes gift card is definitely a great stocking stuffer for me.
5.
Aqua Notes
–
Have you seen these things?! It's a notepad you hang IN YOUR SHOWER. I get probably 80% of my awesome ideas and epiphanies in the shower and I forget about 90% of those before I get out of the shower. NO MORE! I got these in my stocking last year and would love to find another set in there this year. They are just AWESOME. I used them to write down those awesome ideas before they go down the drain :D and my family has started using them to leave little notes to each other lol
I think I need Dragonware. *crossing fingers that Santa would bring it* I hope I'm not on the naughty list, *laughs* What great suggestions, Michelle! I think it really does come down to knowing the owner of the stocking. Personally? Anything minty and chocolaty makes me happy.
Alright, let's get to know Michelle a little more:
Michelle is the author of HOMEWORK HELPERS: ESSAYS AND TERM PAPERS (Career Press 2011), and TREASURED LIES (Entangled Scandalous Jan 2013). She has a B.S. in History, a M.A. in English, an insatiable love of books, and more weird quirks than you can shake a stick at. If she's not editing, reading, or chasing her kids around, she can usually be found in a quiet corner working on her next book. She currently resides in Pennsylvania with her husband and two young children, an insanely hyper dog, and two very spoiled cats.
Here's the blurb:
A young woman in Victorian England must trust a master thief she intends to betray in order to find a legendary necklace that could save her fiance. But in searching for the necklace, she may lose her heart.
Excerpt:
"You won't tell me?" Min asked.

He brought his gaze up to meet hers, speaking through clenched teeth. "I can't tell you."

"Yet you dare question whether or not I'm sharing everything with you." The hypocrisy was a bitter sting on her tongue, but better that than hand everything to him and get nothing in return.


Bryant leaned in, his lips brushing across her jaw line. Min gasped, her heart pounding so hard she couldn't breathe. "Do you think you are the only one distracted here?" he whispered into her ear. "And do you think I believe for a moment you've told me everything?" His finger dipped into the neckline of her blouse and trailed along the locket's chain.

Min jerked back, but he wouldn't let go.

"The difference, my dear Minuette, is the more I tell you, the more danger I put you in. I'm trying to keep you safe." He rubbed his cheek against hers. "Why are you hiding things from me?"

"Because I don't trust you," Min murmured.
"I don't trust you either," he whispered just before his lips met hers.
Want more? Well, Treasured Lies will be available in January, so make sure to watch out for it wherever books are sold. It's promising to be an awesome read.
For now, also check out Homework Helpers: Essays and Term Papers
here
.
Last GIVEAWAY of the season!
Get it while it's hot.
a Rafflecopter giveaway
This giveaway is open until
Dec. 29, 2012
.
If you want to share this giveaway on your blog or website, the HTML code can be found
here
.
For all the up to date dish on the rest of the
24 Days of Guest Posts and Giveaways
, please make sure to like the
Facebook Page
.