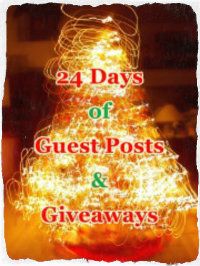 Is it Day 3 of the
24 Days of Guest Posts and Giveaways
already? Lordy! The days keep on coming and so do the wonderful guest posts and awesome giveaways from our participating authors. Have you read the two previous posts already? Joined those giveaways? If you haven't yet, here they are:
Day 1:
Ros Clarke
Day 2:
Justine Dell
Today, we have the rockin' cool author of the Denazen novels. Please welcome to the
24 Days of Guest Posts and Giveaways
event
Jus Accardo
. *confetti and cupcakes*
She's here today to share with us her favorite holiday drink. This topic came from my addiction to the Starbucks Peppermint Mocha Frappuccino which is only available during the holiday season. I'm drinking one right now. So, grab your favorite holiday drink and read through Jus's guest post.
Take it away, Jus!
We all have our own little holiday rituals. My cousin goes out and chops a tree on Thanksgiving—right from his back yard. A friend of mine goes shopping in the city on Christmas Eve. My aunt alternates between watching White Christmas and March of the Wooden Soldiers each Saturday during the month of December. My neighbor tunes to the Christmas station on Sirius Radio and listens to holiday music the entire season. My mom listens to Dominick the Donkey.
Over and over. And over. And over…
*ahem*
The point is, we all have our own little holiday rituals. I'm no exception. Every year, I need to have at least one frosty sleigh ride. I know what you're thinking. Who doesn't love a frosty sleigh ride? And snow is awesome, but my sleigh ride is of the liquid variety.
I used to work retail at a Waldenbooks. *sob* Before they went out of business. Next to what I do now, it was my favorite job. Who wouldn't love spending 40 plus hours a week with all those books? I was the store manager, so as you might imagine, during the holidays, I spent a lot of time there. The holiday season was fun. The atmosphere in the mall was exciting and charged. The lights were festive. The music was—well, annoying after the first week, but still. But it was also stressful. The one thing that calmed my itching nerves was a drink from this small mom and pop coffee shop. The frosty sleigh ride.
A frosty sleigh ride is basically frozen hot chocolate with ground up pieces of Oreo cookie. If you've ever had Gloria jean's Oreo Chiller, a frosty sleigh ride tastes a lot like that—only slightly more awesome. Topped with homemade whipped cream and milk chocolate shavings, it's heaven in a cup. The perfect thing for a hectic holiday afternoon, or the perfect way to end a chaotic day. They're only available from December 1st to the 25th. I got one each and every day I worked. And then, when I left, I made sure to go back each year to get at least one.
Every year I worry that this will be the year I miss it. Either I won't have time to get over there, or I'll head to the mall only to find Estella's closed, some high-priced chain pretzel stand or cell phone kiosk in place of my beloved coffee shop. But so far, I've been lucky. Every year they're there. Waiting for me.
So what about you guys? Do you have a fave holiday season only drink?
A frosty sleigh ride, huh? It certainly sounds like it would kick the ass of my peppermint mocha frappuccino. See, now, I want one too! And Estella's sounds like an awesome place to hang out. May they keep open for as long as they can. Let's support small businesses, folks! This said by the girl totting a Starbucks grande cup of peppermint goodness. I think I need to find a new holiday favorite drink. *laughs*
Alright, since we now know what Jus drinks during the holiday season, let's find out a little bit more about her.


JUS ACCARDO
spent her childhood reading and learning to cook. Determined to follow in her grandfather's footsteps as a chef, she applied and was accepted to the Culinary Institute of America. At the last minute, she realized her path lay with fiction, not food, and passed on the spot to pursue writing. Jus is the author of YA paranormal romance and urban fantasy fiction. A native New Yorker, she lives in the middle of nowhere with her husband, three dogs, and sometimes guard bear, Oswald. Her first book, Touch was released in November 2011 from Entangled Publishing. She is currently working on the next book in the Denazen series.
Give Jus a yell on
Twitter
, or visit her on
Facebook
, and her
website
.
And if you already don't know about this awesome book, here's the blurb for Touch:


When a strange boy tumbles down a river embankment and lands at her feet, seventeen-year-old adrenaline junkie Deznee Cross snatches the opportunity to piss off her father by bringing the mysterious hottie with ice blue eyes home.
Except there's something off with Kale. He wears her shoes in the shower, is overly fascinated with things like DVDs and vases, and acts like she'll turn to dust if he touches her. It's not until Dez's father shows up, wielding a gun and knowing more about Kale than he should, that Dez realizes there's more to this boy—and her father's "law firm"—than she realized.
Kale has been a prisoner of Denazen Corporation—an organization devoted to collecting "special" kids known as Sixes and using them as weapons—his entire life. And, oh yeah, his touch? It kills. The two team up with a group of rogue Sixes hellbent on taking down Denazen before they're caught and her father discovers the biggest secret of all. A secret Dez has spent her life keeping safe.
A secret Kale will kill to protect.
Find Touch on
Amazon
and
barnesandnoble.com
or wherever books are sold.
Grab your copy of Touch today and get to know Kale more. I've read Touch and loved him!
a Rafflecopter giveaway
This giveaway is open until
Dec. 8, 2012
.
If you want to share this giveaway on your blog or website, the HTML code can be found
here
.
What a Christmas-y drink third day!
Stay tuned for more in the coming weeks.
Spread the word, folks!