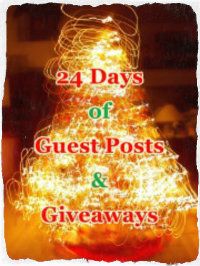 Day 4 of the
24 Days of Guest Posts and Giveaways
couldn't get any better! Are you having trouble deciding what gifts to give this holiday season? Well, this is the post for you!
But before we get into Autumn's awesome advice for gift giving, let's recap of the past three days of guest posts and giveaways. All the guest posts are wonderful reads. Get to know
the identity of Santa with Ros
, then
find out Justine's top 5 Christmas movies
, and then
grab a holiday drink with Jus
!
Now there are four giveaways for you to join! After reading Autumn's post and joining her giveaway, make sure to join the other three. You get so many chances to win, so take advantage of them all!
When it comes to giving gifts, I like to think about something the person likes. For example, I had this co-worker who really liked beer. So, what I did was by a bottle or a can of a different kind of beer until I had an assortment of 10 or so kinds. Then I put all these bottles in a basket that I wrapped with red cellophane. Even the person's favorite color is a great place to start when it comes to giving gifts. But at the end of the day, I think Autumn gives the best gift giving advice.
Take it away, Autumn!
IT'S COMING! IT'S COMING! CHRISTMAS IS COMING!


"…he pulled up in front of a small, white house. Christmas lights and ornaments festooned the trees and bushes in the front of the house, and Jena was startled to realize that she hadn't thought about the season at all." (Cocktails & Dreams, pg 356)
Right about now you're asking yourself, "Is that even freaking possible?" I mean, we've been barraged by Christmas propaganda since late September, right? It gets earlier every year. Grant that Jena was in the midst of a personal crisis, and it becomes understandable that she was out of the Christmas loop. We're not allowed to be that out of it, though. We have Black Friday week, FFS, not to mention Cyber Monday, and all the other days that ad agencies and merchants have created to convince us that is we don't empty our bank accounts and max out our credit cards, we're scummy mudsuckers who don't really love anyone.
This scene from A Charlie Brown Christmas sums it up perfectly:
In this one instance, I am Lucy Van Pelt, crying out for simpler times amidst the glitz.
So, without further ado (too late), here are hints from Lucy and me for holiday gift giving:
1) THINK ABOUT WHAT THE RECIPIENT LOVES
This is so important. Think about the person you're gifting, not what TV or magazines say is the hot gift.
Is your buddy a coffee addict? A nice mug and a bag of beans might be appreciated. Or maybe a gift certificate for a local coffee shop, so they can pick their own flavor.
A reader might like a throw for snuggling down, or a certificate from your local bookstore. Lover of historicals? Maybe a lunch date at a themed restaurant (if that's possible) , or a visit to a local historical site. BDSM-intrigued? There are shops for that ;). Even in my conservative area, I can think of at least three. The kink cannot be denied.
Wine-lover? How about a pretty stopper and glass? Add a bottle of something you like and maybe a selection of noshes and it's heaven.
2) CONSIDER HANDMADE
Nothing says "I care about you" like something handmade. And you don't even have to be handy yourself! Just about any town you can think of is hosting a raft of boutiques, bazaars, or Dickens Festivals, all full of unique, beautiful items that just might fill your particular gifting bill. The item doesn't necessarily have to be fancy; just make it personal.
You'll notice that both of the above suggestions rely heavily on local businesses. I'm passionate about local buying, both for my physical health (local, in season produce is the healthiest) and for my community. According to
Local First
, of each dollar you spend locally, nearly 70% is retained in your area, in the form of jobs, taxes, local spending etc. When you shop, eat, buy, from a non-local business, just a little over 40% stays in your community. The rest is off, helping no one you'll ever know.
As a writer, I don't try to chronicle the lives of the rich and famous. There are no mafia dons, no twenty-eight year old multi millionaires, no rock stars. I love real people, and the meat of their lives is important to me. This goes for me as a reader, too—I like stories about people I can imagine knowing personally. So when I get the chance to help out some of those real people, I do it. Simple as that. Starbucks doesn't need my money, but in frequenting my local coffee shop for the last 22 years I've seen the owners provide a lot of jobs, buy from local bakers, and send their kids to college. And it feels good to know that I helped in that. *steps off my soapbox*
3) WRITE A LETTER
I'm very serious about this. Gifting, at the best of times, is about showing our love, but sometimes what a person really needs is to hear how and why you care about them. This was brought home to me a couple of years ago, when my dad passed away. I think he had some idea what was coming, as he had all of his papers in beautiful order.
There was a folder at the back of his files that was labeled something like, "The Most Important Document." When we opened it, the only thing it contained was a letter I wrote to him a few years before, when I was stumped about what to get him for Christmas. It was simple; just a group of thank yous for everything he'd done for me and for how he'd made it possible for me to be who I am.
And it was his most important document.
Bottom line: Tell people you love them, who they are, and you'll get those gifts right!
I think I love the writing a letter advice best. Letter writing is a dying art. And I don't mean emails. I mean actual hand-written letters. I think it really shows the "It's the thought that counts" sentiment the best. Thank you so much for your wonderful advice, Autumn! You certainly helped us all and made the sometimes intimidating process of buying gifts a little easier.
Since Autumn gave us her gift giving advice for the season, let's get to know her a little more and what her novel is all about.
Author Bio:
When she's not chasing rug monkeys or otherwise running around like a madwoman, Autumn likes to look out at the Rocky Mountains that surround her, and daydream. She wouldn't live anywhere else (except maybe Tahiti, if half naked serving men are included in the deal. Admit it—you'd trade, too).
Autumn's always up for a good chat about music, movies, wine, or good books. Or bad books. Or books of any kind (Really. She talks a lot. Almost as much as she reads. Ask her husband). She sucks down java at a scandalous rate to keep her going by day, but in the dead of night you'll find her hunched over the computer keyboard, writing frantically while alternating between bouts of snickering madly, sniffling aloud, and despairing over her technodorkiness.
Someday she'll grow up and put her very grown-up education to use.
Maybe.

But not today.
Please make sure to visit Autumn's website, follow her on twitter, and like her Facebook page. Here are all the links:
Website link
:
http://autumnmarkus.com/
Blog Link
:
http://autumnmarkus.blogspot.com/
Twitter handle
: @autumnmarkus
Facebook Page Link
:
https://www.facebook.com/AutumnMarkus?ref=hl
I think her book Cocktails and Dreams would make a great gift. So here's the blurb:


Jena Baker's life was a Type-A personality's dream: job she loved, degree almost finished, great friends… all firmly in her control until one night of insanity when her past collides with her present.

After a New Year's Eve party in San Francisco, Jena wakes up in a strange hotel room beside her college crush, Nicholas Cooper. Funny thing, but showing her wild side to a man she knows makes the prospect of facing him the next morning infinitely worse, so she slips away before he wakes. Back home in Davis, she decides to let old flames die… but that doesn't stop dreams of her night with him from coming back to haunt her.

Nicholas wasn't looking for change, other than a change of scenery. His life was perfectly pleasant, even and rational… until Jagermeister led to a madly out of character night. Now he's dreaming of an angel his mind can't remember but his body won't let him forget.

When fate throws Jena and Nick back together again, they find their physical attraction is undeniable. But they need to discover if there's more to them than great sex.

Can a relationship that started somewhere in the middle ever work? Or is it all just Cocktails & Dreams?
Grab your copy on
Amazon
today!
Alright! Let's get this GIVEAWAY started! *confetti*
This giveaway is open until
Dec. 9, 2012
.
If you want to share this giveaway on your blog or website, the HTML code can be found
here
.
I hope today's fourth day advice helps!
Stay tuned for more in the coming weeks.
Spread the word, folks!