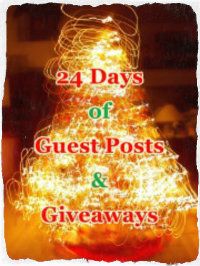 Can you believe it's Day 5 of the
24 Days of Guest Posts and Giveaways
already? Didn't we just end November? Time is moving way too fast. I mean, when I was a kid, I couldn't wait to grow up, but now that I'm all grown up I just want the day to slow down just a little bit so I can fit everything I have to do in it.
Have you guys gotten your Christmas shopping done already? Not sure what to get yet? Check out Day 4 of 24 Days because we get
some great gift giving advice from Autumn (plus a cute Peanuts video)
.
While your out shopping, keep in mind to stay hydrated. It's only bound to get crazier at the mall, so take five minutes and have your favorite holiday drink.
Think of what Jus drinks and maybe hunt it down too
. I know if I had access to it I would.
Then, when you get home, pop in a Christmas movie. Nothing welcomes the season better than a crazy holiday film. If you don't know what to watch yet,
check out Justine's amazing suggestions
. Watch one, watch them all. They won't disappoint.
And, at the end of the day, nothing warms the heart more than a favorite Christmas memory, so take a moment to
enjoy Ros's earliest memory of this holiday season
. It involves Santa.
Also, make sure to join all the giveaways. You can win one or more of the prizes. This is 24 Days, so pace yourself. *laughs*
Today, we have the magnificent Victoria James, author of
The Billionaire's Christmas Baby
, sharing a wonderful Christmas moment with us. Damn near made me cry this one.
Take it away, Victoria!
A few years ago, my son and I spent the afternoon Christmas shopping together. He had turned three years old the month before. While walking through the bustling crowds, a "Thomas the Tank Engine" balloon caught his eye. He pulled me into the store to look at it up close. Then he begged and pleaded. Since he'd been such a great help and hadn't asked for anything at all, I agreed.
It was a blustery and overcast December afternoon, but Christmas songs were blaring in the car as we drove home, and it was nice and warm inside. As I helped my son out of the car, his small fingers wrapped firmly around the base of his balloon, he stumbled…the balloon slipped from his fist and was carried away into the darkening December sky. I jumped up to try and catch it, but the wind swept it in one angry gust. Of course for a three year old it was tragic-I'll never forget that scream as he watched that beloved balloon get whisked away. His blue eyes were wide and tears streamed down his face as we helplessly watched the balloon disappear further and further into the sky.
As I tucked him into bed that night, he was still upset about the balloon. As I was leaving his room, he sat up in bed with a start. "Do you think Santa will find my Thomas balloon?" I stared into his blue eyes that were alive and alight with the belief that Santa really could make everything better. So, I looked into his eyes and promised the only thing I could, "I'm sure Santa will try his hardest."
Those few weeks leading up to Christmas, my son asked about the Thomas balloon at least once a day. Well, Christmas morning, a blanket of white, fluffy snow greeted us as we looked out the window and made our way down to the Christmas tree. Our son tore past us-and ran straight for the Thomas balloon dangling out of his Christmas stocking. His eyes glistened and his smile was so wide. His expression held all the joy and wonder that only children can have. Santa had come through for him; he made him believe in miracles.
There's something about children and the holidays. They make you stop and slow down, and remember the most important messages behind the season. They are oblivious to the problems that weigh in our hearts and keep us up with worry at night. Yet, show a child a person or animal suffering and they will be the first to respond with compassion. Children have unwavering faith, they believe in miracles, and they have the ability to bring out that inner child in all of us.
In my current book,
The Billionaire's Christmas Baby
, the hero, Jackson Pierce is closed off and alone. The heroine, Hannah Woods is in desperate need of a holiday miracle. At first it seems as though they come from very different places in life-Hannah a devoted social worker understands the importance of family, of love and forgiveness. While Jackson, a self-made man, holds onto the anger and resentment from his past. Somehow, though, they must find a way to save the abandoned baby that has a special connection to both of their pasts. Snowed in together at a remote cabin, with Christmas just around the corner, they slowly let their guards down…and let go of the past in order to embrace the future.
*hands out virtual tissue* Isn't that just the most special Christmas memory? Victoria, I love the way you described how your son looked when he lost the balloon then gained it back. You're right, children help us remember what miracles really mean, and not just for this holiday season.
What to know more about Victoria? Read on:
Victoria attended Queen's University in Kingston, Ontario and graduated with a degree in English Literature, where she met and then later married, her own hero. After Queen's, Victoria earned a degree in Interior Design. After the birth of her first child she began pursuing her life-long passion of writing.
Her dream of being a published romance author was realized this February, 2012, when Entangled Publishing bought her manuscript A Family For Christmas. Victoria has three upcoming books that will be released by Entangled Publishing's Indulgence line. Victoria is living her dream-spending time with her family and conjuring up happy endings for her characters.
Here are her usual haunts:
Website/Blog:
www.victoriajames.ca
Twitter handle: @vicjames101
Facebook Page Link:
http://www.facebook.com/pages/Victoria-James/412431258807271
Please feel free to stalk. *wiggles eyebrows*
Jackson Pierce didn't make his fortune entertaining every half-cocked idea, especially one involving diaper changes. Running a software company takes dedication, and not even a cute brunette who seems to think he has something to do with the baby in her arms can crack the band of ice around his heart.
A baby on the doorstep is the least of Hannah Woods's problems—she has to find the baby's uncle and convince him to adopt her. If she doesn't, the baby will end up in foster care, and she can't let that happen. Armed with formula and a tin of cookies, she sleuths her way to the reclusive CEO's doorstep only to find six feet of holiday sexy—and a door slammed in her face. But when Jackson comes around and urges they marry for little Emily's sake, Hannah finds herself falling for the jaded billionaire and wishing for a holiday miracle of their own…
You definitely have to grab a copy of this one! Here are the buy links:
Wanna get a chance to win a copy of The Billionaire's Christmas Baby?
Then it's GIVEAWAY time!
Dec. 10, 2012
.
If you want to share this giveaway on your blog or website, the HTML code can be found
here
.
What's your holiday miracle?