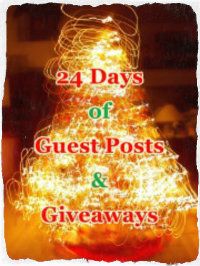 Are you ready for Day 6 of the
24 Days of Guest Posts and Giveaways
? We just ended Ros's giveaway for Day 1! Can you imagine? If you didn't know yet--my bad--all the giveaways run for five days from the time they are posted. So, if you want to join them all, make sure to add all your entries within the 5-day period.
With that said, let's all give Bernice L. a jolly round of congratulations for winning an ecopy of All I Want For Christmas and a Papercut created by Ros Clarke. If you want to catch Ros's lovely holiday post, you can still check it out
here
.
If you didn't get to enter Ros's giveaway, there are 4 more giveaways you can still join! Justine is
giving away a SIGNED paperback copy of Recaptured Dreams
. While you're there, check out her movie suggestions for the holidays and maybe add your own.
Jus is giving away
a winner's choice of an ecopy of either Touch, Untouched, or Toxic
. Winner's choice, y'all! Then find out what Jus likes to drink during the holidays. What are your favorite holiday drinks?
Besides gift giving advice (which are spectacular, I have to say), Autumn is
giving away a digital copy of her novel Cocktails & Dreams
. Make sure you head on over and watch the Peanuts video too.
And for the fifth day, Victoria is sharing such a heartwarming story about her little boy and Christmas miracles along with
giving away an ecopy of The Billionaire's Christmas Baby
. It's a timely novel to read, I believe. I have my copy already. Do you? Well, join the giveaway for a chance to win.
Okay, now that everyone is all rounded up nice and tight, let's get some tips on how to keep our sanity this crazy holiday season from our resident psycho author, Jennifer. She gives some great tips, class, so make sure to pay attention. There's a test afterwards.
The stage is all yours, Jennifer!
As a psychologist / author (psycho author), I know the holidays can be a crazy time. I hear the family dysfunctional fun from my psychotherapy clients and I experience the stress in my own life.
So when you've hit five stores to find one gift, or endured Justin Bieber's Christmas CD for the tenth time, how can YOU stay sane?
1)
Lower your expectations.
What an uplifting first tip. ;-) Are the holidays really "the most wonderful time of the year"? Well, there may be some special emotional moments celebrating family traditions. But nobody feels excited and happy the entire holiday season. Moods don't work that way—they're fleeting and ever-changing. The good news? If you're feeling upset, wait a bit and you'll feel better. The bad news? If you're feeling happy, wait a bit and you'll feel worse!
Unrealistic expectations can deflate enjoyment of family gatherings in particular. We associate the holidays as a time of togetherness, yet they're also a reminder of divorce, death, abuse, religious differences, and painful family interactions. Keep your expectations grounded in reality. Can you afford a hotel room instead of jamming your family into Grandma's attic bedroom? Will your neighbor survive if you don't have time to bake pumpkin bread for family friends?
One guarantee: this holiday will NOT be perfect. Accept that fact and strive for good enough.
2)
Prioritize.
So you want to send 150 holiday cards, cook a full dinner for twenty, shop and wrap for your ten family members and twenty friends, work full time, interview for a new job, travel for the holidays, bake and ice three dozen cut-out cookies, create ten iTunes CD mixes, take care of your family, take the pet to the vet, exercise, AND stay sane?
Good luck with that! Something's gotta give, and it shouldn't be your sanity. What are the most important activities this holiday? These are your non-negotiables, and protect them. Everything else is negotiable.
My boss taught me a great idea for taking care of my sanity. If someone asks me to do something and saying yes will lead me to feel resentful, then I say NO. Will agreeing to pay more than your brother for Dad's gift make you feel resentful? If so, don't agree to that.
3)
Drink smart.
If you drink alcohol, there's a way to get a nice buzz without getting hangovers, beer goggles, or late night munchies.
How do you accomplish boozy bliss? If you're female, stick to
1-2 drinks
. If you're male, stick to
2-3 drinks
.
Read more facts about alcohol and good times
here
.
4)
Participate in the moment.
When you're at a holiday gathering, do you find yourself ruminating about the dumb thing you just said, or your to-do list for tomorrow? If you're stuck in the past or the future, participate in the present by taking deep breaths and using your five senses to observe what's happening around you. What details do you see? What do you smell? What do you hear? (Not that Justin Bieber Christmas song again agghh!)
One way to focus on the now is to be mindful of what you're grateful for about this moment. Perhaps catch family members being "good" and reward them with praise.
Good luck keeping that sanity and cheers! *
hunts for spiked eggnog
*
Love the tips, Jennifer! I'm certainly using them as D-day nears. The malls are getting fuller. Tempers are getting shorter. So knowing to lower expectations, prioritizing, drinking smart, and participating in the moment can really help. Thank you so much for sharing!
Besides the four tips, let's get to know Jennifer a little more, shall we?


People fascinate the psychologist/author (psycho author) known as Jennifer Lane. Her therapy clients talk to her all day long about their dreams and secrets, and her characters tell her their stories at night. Jen delights in peeling away the layers to scrutinize their psyches and emotions. But please rest assured, dear reader, she isn't psychoanalyzing you right now. She's already got too many voices in her head!
Stories of redemption interest Jen the most, especially the healing power of love and empathy. She is the author of The Conduct Series—-romantic suspense for adult readers—-and is currently at work on the third and final installment: On Best Behavior. Streamline is her first foray into writing for young adults, but she's found this sort of writing even more fun. A former college swimmer, Jen was able to put a lot of her own experiences into this book.
Whether writing or reading, Jen loves stories that make her laugh and cry. In her spare time she enjoys exercising, attending book club, and hanging out with her sisters and their families in Chicago and Hilton Head.
Make sure to stalk her in the following places:
Website:
http://jenniferlanebooks.com
Blog:
http://jenniferlanebooks.blogspot.com
Twitter: @JenLaneBooks
Facebook Page:
https://www.facebook.com/jennifer.lane.37
After you've visited with Jennifer, make sure you grab a copy of Streamline:


Seems like Leo Scott has it all: looks, brains, and athletic talent. He's captain of his high school swim team with a bright future in college and beyond. But Leo has secrets. His mother's crippling car accident has devastated his family and left Leo to deal with his father's abuse, battered and alone.
Leo's girlfriend Audrey Rose is poised for her own share of success. As one of Florida's top high school swimmers, Audrey dreams of college swimming stardom. But there's an obstacle to her glorious rise to the top. Her number-one supporter-her father-is in prison for murder.
Part murder mystery, part tale of young love in a military family, this gripping story takes readers on a journey from Pensacola to Annapolis. Leo and Audrey must band together to rise above the adversity they encounter and find their true selves in the process. When everything's on the line . . . streamline.
Check out the trailer:
Isn't it great? Grab your copy now from
Amazon
.
Now, let's join the sixth GIVEAWAY for the
24 Days
!
a Rafflecopter giveaway
This giveaway is open until
Dec. 11, 2012
.
If you want to share this giveaway on your blog or website, the HTML code can be found
here
.
I hope today's advice helps keep you sane for the holidays!
Spread the holiday joy, folks!