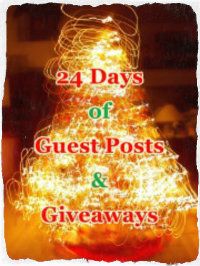 On this 8th Day of the
24 Days of Guest Posts and Giveaways
, I think I am coming down with something. I'm already feeling the usual suspects that are precursors to a cold. I've had them enough to know. I think this has to do with the multiple kidnappings of my Momager that lasts until very late into the night. But fret not, the
24 Days of Guest Posts and Giveaways
continues!
Before I announce the winner of Jus's giveaway, I would like to share that since Jennifer Lane has opted for an ecopy of Justine's
Recaptured Dreams
, Justine has graciously asked the great Rafflecopter for another winner to her giveaway.
So, the new winner of
a signed paperback copy of Recaptured Dreams
is Haraiah D.!
*confetti*
Let's all give Haraiah a big holiday round of applause!
At the same time, let's give another round of cheer to Raizza C., winner of
Jus's winner's choice of an ebook of either TOUCH, UNTOUCHED or TOXIC
. So very awesome!
Congratulations to the winners.
No worries, everyone. You still have 21 more fantastic giveaways you can join. Here is the day and hour count for the rest:
Day 4 with Autumn Markus has 16 hours left.
Day 5 with Victoria James has 1 day left.
Day 6 with Jennifer Lane has 2 days left.
And
Day 7 with Cindy Young-Turner has 3 days left
.
Make sure to join them all after you participate in Sasha's post and giveaway.
When I'm coming down with something, I usually like to stay in bed and drown myself in Benadryl...ah...er...I mean feel good romantic movies. *coughs* I love holiday romance movies the best because there's something about the combination of Christmas and love that gets me every time. Luckily, Sasha has given me great suggestions for what I'm feeling is a couple of days in bed. Even if you're not coming down with something--lucky you--still check out these movies. I think you might recognize some, if not all, of them.
The stage is yours, Sasha!
My top five holiday romances are all films, actually. Yes, in addition to being a bibliophile, I'm a rather hopeless film addict. :-) Either way, it's about the story, right? And these five holiday romances are too awesome not to love.
1.
Love Actually
– This movie is glorious on just about every level. Seriously. From the amazingly stellar cast (Emma Thompson, Hugh Grant, Keira Knightley, Andrew Lincoln, Alan Rickman, Liam Neeson, and many, many more) to the weaving of deeply beautiful love-stories with light fluff and fun – you can't help but enjoy the spirit of this film. I watch it every time it comes on and am happy to say my kids are now as infatuated with it as I am. Yes!
2.
It's a Wonderful Life
– My kids aren't with me on this one. They say it's terribly depressing. To me, it's one of the most passionate and abiding love stories ever. There's something about that scene where George and Mary are huddled together, on the telephone. She's almost in tears because he's rejected her. And he's on the verge of losing it because, despite his vehement denial, he wants Mary for his own… And when he finally loses it. Well, I get goose-bumps every single time. And at the end, when Mary's gone out to help George, rallying all the neighbours in his time of need… Oh, I'm getting all teary-eyed thinking about it. It's a beautiful love story, one that encourages those of us that have been married for a while to stick with it – even through the toughest parts.
3.
The Holiday
– Yes, it helps that Jude Law is in this film. He is such a glorious male specimen to behold. And his turn as the secretive bachelor will melt your heart – or at least, it melts my heart. He makes me watch this movie because, beyond his scrumptious outside, he has a warm gooey center that remains manly yet sensitive! I'm not a huge fan of Cameron Diaz, but she works in this one. The other love story is just as delightful – if it's a little more sweet and fumbling than the Diaz/Law affair. And the end promises all sorts of hope and happiness. What more could you want for this time of year?
4.
The Family Man
– Okay this one is a tear-jerker, but I love it anyway. Nicholas Cage wakes up to a different life – the life he would have had if he had returned to his college sweetheart instead of staying in his new high-powered job. Tia Leoni is awesome, pretty much everything a man could want in a wife. And by the time the movies over, you're pretty devastated. Yet I KNOW that what he experiences if what will BE because he finally gets it and he goes after her, fights for her… and it's awesome. Or maybe that's what I've convinced myself so I can be happy with the ending?
5.
Sleepless in Seattle
– You knew it was coming. I'll admit it's not my favourite love story, but I love this movie because the entire ensemble cast was brilliant. I wanted them to spend more time together, to fall in love, but I understood the significance of them taking each other's hand and feeling that spark, "Like magic." It was Tom Hanks that knocked this one out of the ballpark for me. His grief was so real that I wanted to call in to the radio to try to cheer the guy up. J As a woman, who doesn't want a man to love her like that?
Kate, Thanks so much for letting me gush about my top romantic holiday picks. This isn't a complete list, but these are dear to me. So, now I'm going to ask you: Do you have any must-see romantic holiday movies? What makes them special to you?
You're very welcome, Sasha! *hugs*

Didn't I tell you they were great suggestions? I love Sleepless in Seattle the best. There's something about Tom Hanks and Meg Ryan even if drooling over Jude Law seems like the better idea. Thank you so much for sharing your favorites with us, Sasha!
Do you agree with Sasha's selections? Let us know in the comments section.
We already know what Sasha loves to watch in terms of romantic holiday movies, but what do we really know about her?
Here are the deets:


Sasha is part gypsy. Her passions have always been storytelling, history, and travel. It's no surprise that her books visit times past, set in places rich with legends and myth. Her first play, 'Greek Gods and Goddesses' (original title, right?), was written for her Girl Scout troupe. She's been writing ever since. She loves getting lost in the worlds and characters she creates; even if she frequently forgets to run the dishwasher or wash socks when she's doing so. Luckily, her four brilliant children and hero-inspiring hubby are super understanding and supportive.
Please make it a point to stalk her in these places, I know I do:
Website
Blog
Facebook
Alright! If you're looking for another amazing read this holiday season, make sure to add Hollywood Holiday to that list.
All she wants for Christmas is for Hollywood to love her again. But once she meets him, her Christmas list changes.
Jen's only Christmas wish: Hollywood falling back in love with her. Meeting ex-Marine Gunner was a bonus. She likes that he isn't impressed by celebrities or the movie biz. She likes that he's funny and sweet … and drop-dead gorgeous. And she loves that he has no idea who her alter-ego is: Jen Fleming, Hollywood bad-girl and paparazzi target number one. Why ruin an amazing affair when he's leaving after the new year?
But the closer they get, the harder she falls, and the more she wants to tell Gunner everything. Especially once he shares his secret with her.
Her new Christmas wish: Gunner accepts and loves her for who she really is.
Gosh! We are getting some great reading suggestions during the 24 Days of Guest Posts and Giveaways. I'm sure to grab my copy of Hollywood Holiday. Make sure you do the same:
InkSpell Publishing
B&N
And if you're addicted to Sasha's writing as much as I am, make sure to check out her other titles as well:
Hollywood Ever After (Red Carpet Series #1)
Medusa A Love Story (Loves of Olympus, Book 1)
Galileo's Holiday
These novels don't disappoint, let me tell you.
~*~
Okay, who's ready for a GIVEAWAY?
I know I am!
Dec. 13, 2012
.
If you want to share this giveaway on your blog or website, the HTML code can be found
here
.
Happy watching! *coughs*