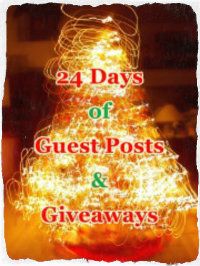 We all have wishlists, especially this holiday season. Whether it be world peace or the new iPhone 5, we always have something that we want. Big things, small things, and everything in between, a wishlist is a way to give the people we love a hint of what to put under the tree for us. If anyone can fit world peace under the tree, please let me know.
Okay, another giveaway has come and gone.
Autumn's Day 4 giveaway has a winner
picked and without further ado, let's put our hands together for:
Sarah R.
Yey! *confetti rain*
Congratulations, Sarah. You have won a digital copy of
Cocktails & Dreams
. Please expect an email from Autumn some time soon. Thank you so much for participating in the
24 Days of Guest Posts and Giveaways
!
Just because Sarah won doesn't mean she can't join the rest of the giveaways. Join her in participating in the other giveaways that are still on going for this event. The more giveaways you join the more chances you have of winning any of the prices our awesome authors are offering.
Do you want to learn the true meaning of Christmas miracles and possibly win a copy of The Billionaire's Christmas Baby? Well, you still have 17 hours to
head on over to Victoria's Day 5 post
.
If you're wondering how you can keep your sanity during the holiday season, check out Jennifer's great tips. She's our resident psycho author.
You can even win an ebook of Streamline
.
Wanna know what happens when you spend Christmas with one of your main characters who also happens to be a thief? Cindy Young-Turner knows. Missing spoons and all. You can meet Sydney when you
join the giveaway to win ebook of Thief of Hope
.
And a holiday romance wouldn't be complete without a holiday romance movie marathon. You need to see Sasha's top five holiday romances. While you're there,
get a chance to win an autographed paperback copy of Hollywood Holiday
.
Alright! Everyone's all caught up. Let's move on to today's featured author. The amazing Nicki shares with us her holiday wish list.
Take it away, Nicki!
I thought about getting all philosophical for this guest post, but then I decided it might be more revealing to let you in on my actual wishlist and the reasons behind each item. Who knows—you might even be inspired to add a few more things to your list. ;)
Item #1: Fuzzy Socks
If you've ever worn a pair of fuzzy socks, this wish requires no explanation. For those of you who haven't yet discovered their many joys, pay attention. They are warm, cozy, and wonderful. And once you put them on you'll want to wear them all the time, so they won't last forever. That's why there's no such thing as too many pairs of fuzzy socks. Don't forget, it's wise to keep a spare pair in your purse or car for when you're out & about and in need of cozy-wear. And that's not to mention all the fabulous colors and designs that make it difficult to choose just one pair fuzzies—so don't! Buy 'em all.
Item #2: The Muppets
Movies don't get any cuter than this. Jason Segal did this TV classic right with all the cheesy, heart-warming lovability and fourth-wall-breaking that I remember from when I was a kid. So it's more than a DVD, it's a disk of nostalgia, a happy piece of my childhood. I still can't decide which character is my favorite—the grumpy old men? Animal? The Swedish Chef? Well, no worries, I won't have to decide since they're ALL in the movie, plus brand-new retro character, 80s Robot. TV Executive: "I'm gonna shoot straight: you guys aren't famous anymore." Fozzie Bear: "Yeesh. I wish she'd shot a little more curvy."
Item #3: Yet another New Coffee Maker
This seems to be on my list every year, and all I can conclude is that coffee makers are really, really difficult to make. It's the only way I can explain why, since the introduction of the first automatic drip coffee maker in 1972, no one's been able to make one that doesn't soon begin to leak, burn, malfunction, overflow and gush wet coffee grounds all over my counter. I've bought the full range of makers and I've rarely had one that lasted longer than a year. Is it just me? Have you had better luck & do you have any advice regarding the make/model I should ask for?
Item #4: Barnes & Noble Gift Cards
I'm a Nook girl, and so I'd love a bigger NookBook budget. It'd be really nice if some extra time came along with those gift cards. The thing about writing is, it cuts severely into reading time. And after being published, time is further lessened because of deadlines, marketing activities, and participating in all the super-fun opportunities opened up to me, like this blog party for instance. The irony is that the more involved in the writing world I become, the more truly great writers I meet, and so my reading wishlist is exploding! I sometimes feel like I'm never going to make headway. But reading is what got me into writing in the first place, and it's vital if I'm going to continue to grow as a writer, so better time management and making reading time as much of a priority as anything else is the gift I intend to give myself. (Hey, what do you know, I did get a little philosophical, after all.)
Item #5 Ulta Gift Cards
I turned 45 this year. Need I say more? I can't mess around when it comes to skin care, and my local Ulta (a mecca of all things beauty, including an onsite salon) is my resource. And I just found out they offer micro-facials—licketty splicketty 20-minute facials for only 20 bucks! Now that's a routine I can actually maintain. Naturally, I'm going to want to buy all the wonderful products I'm sure they'll recommend during the treatment, right? That's where guilt-free buying with gift cards comes in…
Thank you for e-listening to my list! Feel free to tweet Santa about this. ;) Much thanks to Kate for having the creativity to come up with this fun-filled 24 days of giveaways, and for the determination to make it happen. I wish you all a blessed and joyous holiday season.
You heard Nicki, folks! I'm personally curious about the fuzzy socks. Thank you so much for sharing with us your list, Nicki! It's my pleasure to host this event for all of you. Ever since I was little, my mother always taught me the value of giving, and giving from the heart. This event wouldn't have happened without authors like you willing to participate, Nicki! Thank you for the love! I give it all back a hundred percent.
Besides what she wants for Christmas, let's get to know Nicki a little bit more:
Writing wasn't something Nicki set out to do; it just sort of happened when she realized writing reports was by far her favorite part of her investment consulting position. She traded stock allocation and diversification for story arcs and dialogue and now weaves her creative writing time in with the other activities of her busy life with her family in the Chicago suburbs. Her next full length novel, a paranormal romance titled Divine Temptation, will be released in early 2013.
Nicki writes with two goals in mind: #1 to keep the characters realistic, even when their circumstances are anything but, and #2 to make the reader feel. "The comment I get most often from readers of Three Daves is how well they relate to the characters, how genuine they seem. And the greatest thing is that it doesn't seem to matter whether they went to college back in the 80s or are there now---they say the experience is genuine. I love hearing that."
Please make sure to give her a holler at the following places:
Website
Blog
Goodreads
Twitter
Facebook
Besides Nicki, let's get to know her Three Daves:
Jennifer Whitney was the last American virgin. At least that's what she felt like in 1986 as she began her sophomore year at Central Illinois University. She was proud of her decision to wait for the right guy, and yet she was getting restless. It seemed like everyone around her was doing it... and having fun doing it, too. She didn't want to become the campus slut or anything, but surely there was a difference between a trashy skank and a nice girl with a little experience. Perhaps it was time to stop relying on fate to guide her and instead take matters into her own hands. And with that realization, Jen decided to find "the one" and lose her virginity, although not necessarily in that order...
You have to check out the trailer:
Wasn't that awesome?
Well, grab your copy now. I know I am:
Amazon
Barnes & Noble
And know that Nicki's upcoming novel of angelic proportions, Divine Temptation, will be released in early 2013, tentatively February 12. If you'd like early access to the book trailer, countdown widget, and official release day info. to share on your social networks, you're invited to sign-up here:
http://nickielson.blogspot.com/p/divine-temptation-launch.html
So exciting! The giveaways are getting better and better.
Here's another one:
a Rafflecopter giveaway
This giveaway is open until
Dec. 14, 2012
.
If you want to share this giveaway on your blog or website, the HTML code can be found
here
.
What's on your Christmas wishlist?
For all the up to date dish on the rest of the 24 Days of Guest Posts and Giveaways, please make sure to like the
Facebook Page
.