I'm all giddy. Tomorrow is the day, folks! I have my decorations up. I'm putting together the final touches of our treat table. I even bought fake eyelashes. Smells like Halloween to me!!!
And in continuing with my blogger feature for October, today I have Shayna from Shayna Varadeaux Books & Reviews reviewing Punished (Arelia LaRue #2) by Kira Saito. But before we get into her review, let's get to know Shayna a bit:
I am a happily married mom of three teenagers. I am a highly addicted reader and an avid reviewer. I love generating buzz for authors and am almost finished writing my first YA book, True Fate. Life is chaos and reading is my relaxation. My blog is new but I have been supporting my fellow authors for awhile now and looking forward to generating buzz for the little guy! A tattoo artist turned author following my dream and loving it!
Isn't she awesome? I love anyone who follows their dreams. It takes a lot of courage to do this. So, Shayna, take it away...
~*~
Punished is book two in The Arelia La Rue Books. I absolutely love the spook factor in these books. It has a great balance and does catch me off guard. I get the hairs on the back of my neck standing on end with every installment of this Voodoo-esque series.
Arelia is pretty much in over her head and the spirits are restless. The creepiness of the old plantation and what's going on there are epic. The book literally grabs you and sucks you into the plantation grounds, it's very well written and some parts are disturbing but I am addicted to the series for sure.
She has been told she's a Voodoo Queen, though she doubted it in the beginning. But the eerie things that happen at the plantation, confirm what she hoped was just make believe. In New Orleans, Louisiana its not uncommon for these things. But on ancient plantations were torture and slavery was a way of life, misery hangs thick all around.
Louis was a slave angry at the people who thought you could own another human being. He grew up there and he seemed to adapt to the way things were until it came down to the love of his young life.
The death and curses fly and Arelia gets sucked into hundreds of years of old spiritual unrest. The plantation owner, Lucus, is as cursed as he is handsome. Arelia was working at the plantation in present day, taking care of the tourists staying at the plantation. Her and her best friend, Sabrina took the job together.
Arelia communes with Gran Ibo a mother spirit to the voodoo queen that aids her as much as she can. Arelia comes across some evil spirits more than once and sent chills racing down my spine often.
Ivan is this sort of jerky guy who works there too and he gets possessed by Louis. You can feel the haunting qualities of this series come to life.
I get the thriller/ chiller yet supernatural vibe from this book. You get transported by Kira Saito's graphic details into the plantation setting and it's surroundings. I could almost hear the low drolling tunes of the tortured souls. *shivers* I definitely recommend this series if like your hairs to stand on end and don't mind feeling like someone's watching you while you read in the dark.
Books one and two are really good reads, though I'd leave a light on! I haven't read books 3 & 4 yet but I plan on it soon!
On to book 3 ASAP!
~*~
Make sure to visit Shayna's blog by clicking on her blog button below: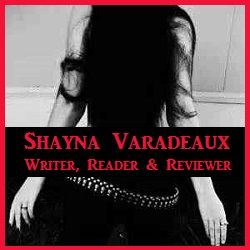 Then enter the giveaway:
a Rafflecopter giveaway